September 30, 2010 --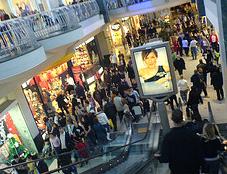 Shopping Wars Intensify for Holiday Season
By Oregon Small Business Association,
Intensifying the upcoming holiday shopping season is the recent slide in back-to-school sales  and the challenge of a tough economic climate.   As a result, more retailers are starting to aggressively ramp up their efforts earlier to expand their image on the retail scene.   The new battleground is the shopping mall as two giant firms are buying hundreds of spaces for a seasonal campaign.
Costco Wholesale Corp. recently announced that they are taking steps to add their stores to shopping malls, offering a "mini-mall" option to shoppers. The reversal of Costco's traditional approach, which has been to expand to "off-mall sites" comes at a time when a number of malls are struggling due to the recession and losing their anchor stores, their largest tenants. With malls looking for alternatives, Costco is aggressively pursuing an expansion into spaces once occupied my department stores. With an average store sales of more than $100 million a year, Costco has the potential to help attract new shoppers to traditional malls. One challenge for Costco may be the lack of space, as older and new stores typically range from 143,000 to 205,000 square feet.
Read the full article and discuss it »