One-Third of Nonmetro Counties Had Losses
— Despite Trends, Oregon is Still a Rural State
By Oregon Employment Department
Over our country's history, long-term trends have driven the bulk of the population into metro areas. Two centuries ago, 93 percent of Americans lived in rural parts of America. By 2000, that number had dropped to 21 percent. Oregon has not been an exception to this long-standing trend as the latest 2010 Census data show. This article looks at decennial population growth between Oregon counties within metropolitan statistical areas (MSAs) and counties outside MSAs.
Oregon's Metro Counties Have Grown
According to the U.S. Census Bureau, Oregon's population grew by 12 percent from 2000 to 2010, adding nearly 410,000 Oregonians to the tally. This growth was unevenly distributed between metro and nonmetro counties. Out of the 12 percentage points of growth, nearly 11 of those percentage points came from counties within MSAs and the remaining 1 percentage point came from nonmetro counties.
Out of the 410,000 Oregonians added over the decade, about 361,000 of them live in metro counties. Washington County (part of the Portland MSA) added the most residents, with over 84,000 more residents (19% growth). Deschutes County (the only county in the Bend MSA) grew the fastest with a growth rate of 37 percent (Table 1). In all, Oregon's metro counties grew by almost 15 percent. Oregon's nonmetro counties in total, had a below-average growth rate of 6 percent.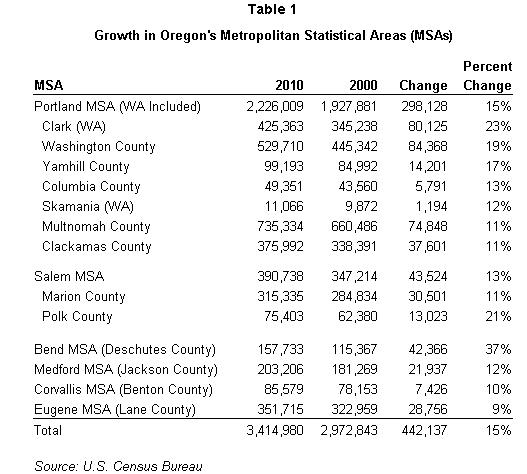 One-Third of Nonmetro Counties Had Losses
While no metro county had population losses during the 2000 to 2010 period, eight of the 25 nonmetro counties had losses. The majority of those losses came from eastern counties that were already sparsely populated (Figure 1). Baker County had the largest loss with 600 fewer people in 2010 than in 2000. Sherman County had the highest percent loss at 9 percent – a decline of 170 people.
Nonmetro counties added 48,800 residents out of the 410,000 Oregonians added since 2000.
Linn County had the largest nonmetro population growth with 13,600 additional residents over the decade, which means its population grew by 13 percent, beating the state average. The only other nonmetro county to beat the state average was Jefferson County, which grew by 14 percent.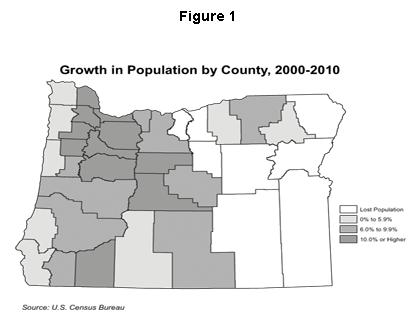 Despite Trends, Oregon is Still a Rural State
All metro and many nonmetro counties in Oregon grew over the decade, but a greater share of the growth went to counties within metropolitan areas, continuing state and national trends toward urban growth. In 2010, 78 percent of Oregonians lived in counties that are included in a metropolitan area, significantly below the national average of 85 percent. Even though Oregon continues to trend toward greater population growth in metropolitan counties, residents are still less concentrated in metropolitan areas compared with the national population.