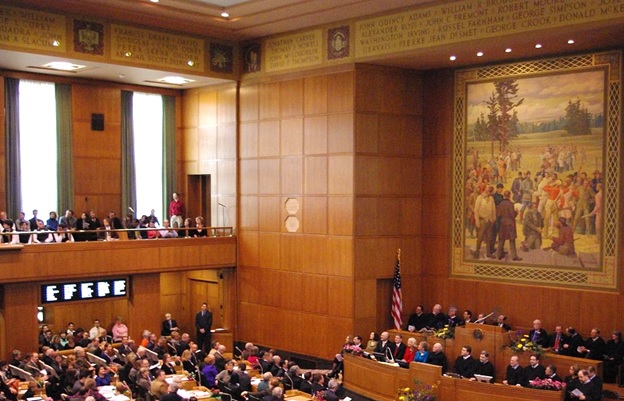 q
By Christine M. Zinter
Bullard Law,
June 7, 2023 — Employers who have been diligently attempting to update their company's leave policies to address the impending availability of benefits under Paid Leave Oregon have encountered many unanswered compliance and administrative questions. Senate Bill 999, passed by both the Oregon House and Senate and awaiting Governor Kotek's signature, attempts to provide at least some answers.
The legislation amends the language in the Oregon Family Leave Act ("OFLA") and Paid Leave Oregon (ORS Chapter 657B) to make the two better aligned. Most notably, OFLA has been amended to clarify that if the reason for an OFLA leave also qualifies under Paid Leave Oregon and/or the Family and Medical Leave Act ("FMLA"), the leave must be taken concurrently, and not in addition to, Paid Leave Oregon and/or FMLA.
In other words, the concerns about leave stacking (taking an OFLA leave prior to turning in a claim for benefits under Paid Leave Oregon) have been assuaged.
In addition to putting our concerns about leave stacking and concurrency to rest, SB 999 includes the following changes:
OFLA – Benefit Year:
Effective July 1, 2024, OFLA's one-year benefit period can be either (a) the 52 weeks beginning on the Sunday immediately preceding the date on which family leave commences [to match Paid Leave Oregon] or (b) another consecutive 12-month period, such as calendar year, fiscal year, or the 12-month period that begins on the date an employee commences family leave.
OFLA – Family Member:
Effective September 3, 2023, the definition of "family member" will be expanded to mirror the Paid Leave Oregon definition, which includes siblings (notably absent from the original OFLA) as well as "any individual related by blood or affinity whose close association with a covered individual is the equivalent of a family relationship." Both the Bureau of Labor and Industries ("BOLI") and the Oregon Employment Department are tasked with adopting rules regarding factors that would establish a significant personal bond for purposes of determining affinity and claimant attestation of these affinity factors.
OFLA and Paid Leave Oregon – Expansion of Job Protection: When an individual returns from leave and an equivalent position is not available at that job site, the employer shall offer an equivalent position at a job site located within 50 (previously 20) miles of the former position, if such a position is available. If equivalent positions are available at multiple job sites, the employer shall first offer the employee the position at the job site that is nearest to the job site of the employee's former position.
Paid Leave Oregon – Health Insurance Continuity: SB 999 added clarification language that health care benefits continue for the duration of leave provided the employee continues to make their regular contributions. If the employer elects to cover any part of an employee's health, disability, life, or other insurance coverage while the employee is on leave (since employers will not be able to take deductions from Paid Leave Oregon benefit payments), the employer may deduct this advancement upon the employee's return to work, so long as the amount deducted per pay period does not exceed ten percent (10%) of the employee's gross pay.
What Employers Should Do Now
– Revise any OFLA policies to align with the new definition of family member.
– Clarify that OFLA leave that also qualifies under Paid Leave Oregon must run concurrently; employees cannot exhaust unpaid OFLA leave and then qualify for another 12 weeks (14 weeks in some situations) of Paid Leave Oregon.
– Employers wishing to change leave calculation periods under OFLA to be based on a rolling-forward benefit year (to match Paid Leave Oregon) must give 60 days advance notice to employees. In order to be ready for Paid Leave Oregon's September 3, 2023 benefit start date, this notice should be posted by July 5, 2023.
For questions on compliance with Paid Leave Oregon-related policies, contact your attorney at Bullard Law.
The content of this Alert is provided for general information purposes only. It should not be considered legal advice or used as a substitute for consulting an attorney for legal advice.
Content ©2023, Bullard Law. All Rights Reserved.