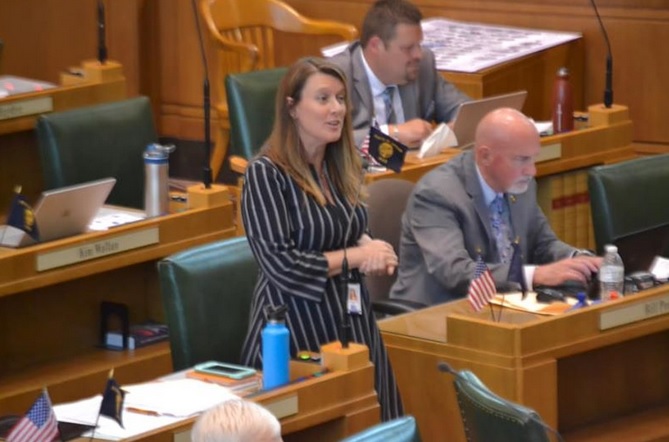 Q&A created by Oregon Transformation Newsletter,
Third Century Solutions,
Q and A with Cheri Helt, Oregon State Representative, House District 54-Bend
According to your website you grew up in a working class family in Michigan in the 1980s. Why did you and your husband Steve choose Bend as home?
Steve and I chose Bend for the outdoor lifestyle and because we wanted to live in a smaller community where we could raise our kids, know our neighbors, and build our business together. Bend has grown and changed a lot, but it still has all of the same charm and sense of community as it did when we first arrived.
Today you own and operate two restaurants in Bend, Zydeco and Bistro 28. A recent review of Zydeco from Bend Bulletin restaurant reviewer John Anderson said, "In Bend's burgeoning dining world, one constant has been Zydeco Kitchen & Cocktails. Since 2009, when owners Steve and Cheri Helt relocated to downtown Bend from Third Street, the fine-dining restaurant has been a model of consistency."
In such a competitive industry, with narrow margins, how have you and your husband achieved such a record of consistency? What's your business philosophy?
Steve and I have built our business model on providing consistent products. Ensuring that every time you visit, each dish will provide the same level of quality and flavor. We accomplish this through consistent recipe execution, long-term purveyor purchasing, managing the details, and working along side our staff and coworkers.
A Wall Street Journal oped, "How San Francisco Is Killing Its Restaurants," says that because of new mandated regulations concerning, pay, scheduling, sick leave, health care, permitting, etc., restaurant closings outpace openings nine to one. In a low-margin business, what non-regulated benefits have you been able to offer your workers? How are you able to do it?
Without good coworkers and employees, our business simply doesn't succeed. We are a people and service business. Because keeping good employees is central to our business strategy, we offer not only competitive wages but benefits as well, including a high-quality health insurance program. We match 50 percent of premiums, and we offer a 401(k) savings program, vacation pay, and health club memberships for managers.
Many business owners say their number one worry is finding and keeping a quality work force. But your policy is that new hires have a minimum of two years of fine dining experience before they'll even be considered for your training program. In today's full employment economy, how can you place such high demands on new hires? Any trouble finding good help?
Finding and keeping good people is always a challenge – even more so when the economy is strong. For us, we've always found that good people respond to high expectations. Our culture is highly professional, and the people who work in our restaurants take incredible pride in the food they prepare, the service they provide, and the atmosphere they create for our customers.
How would you rate your fellow legislators on their understanding and appreciation of what it takes to survive and succeed in business? Are you able to educate fellow members on business issues? Is it ever possible to really "get it" if you haven't signed the front of a pay check?
Very few small business owners serve in the legislature, therefore, very few legislators have firsthand knowledge about the challenges of starting, growing and maintaining a small business. I've seen this play out in debates over tax policy and labor regulations. I believe every small business owner wants to do as much as possible to support their employees and to create a positive working environment where all employees can succeed.
In July of this year, Oregon became the eighth state in the nation to pass a "Family Leave Act." At the time, a Huffington Post headline read, "Oregon Just Passed the Best Family Leave Law in U.S." The news outlet also noted that Oregon "will be the first to pay low-income workers 100 percent of their wages while they're off."
You were in the legislature when this bill passed. What do you think of it? How did you vote on it? How will it affect your industry?
I supported the new family leave law and believe it's the right policy for Oregon. This new law was the result of negotiations between labor and business. The reality is that it can be very costly for a small business to lose a good employee if they have to quit their job to care for a family member. I would rather employees have the flexibility and certainty to leave and return once their personal situation has passed. I think that's good for families and good for businesses.
The two most important bills to pass the Oregon House this session were: 1) a gross receipts sales tax on businesses with more than $1 billion in sales, and 2) the "Cap and Trade" bill. The former was signed into law by Gov. Brown, while the latter passed in the Oregon House but was defeated in the Senate. Eleven GOP senators left the Capitol and Senate President Peter Courtney subsequently pulled it from the floor. How did you vote on those two bills and why?
I voted no both the new business tax increase and the new carbon taxes and regulations. I thought they both went too far.
On the $2 billion-plus business tax, during a time of record state revenues, I felt it would hurt businesses, particularly smaller businesses, and cost jobs. I am also very concerned that without reforms to Oregon's broken pension system, most of the additional dollars it will raise will go to fund past and future pension liabilities rather than kids and classrooms. Even without a new tax, we increased funding for schools by 10 percent – the largest education budget in state history. Prior to the legislature, I served eight years on the local school board and education remains my top priority. During my service, local graduation rates went up 10 percent, voters approved four new school to relieve overcrowding, and we installed safety entrances in 22 schools.
I opposed the carbon taxes and regulations because I am very concerned about its negative financial and job impact on low- and middle-income families, seniors on fixed incomes, small businesses and family farms. In the first year alone, gas prices would go up 22 cents a gallon and the cost of natural gas for home and business would increase at least 10 percent. I believe climate change is real and was disappointed that a moderate, incremental compromise couldn't be reached.

What's the most interesting thing you've learned about government vis-à-vis the private sector in your first year serving in the Oregon legislature?
Despite Oregon being a small business state, I am disappointed by how few small business voices are actually represented and heard in the legislature. Small businesses, local businesses and family-owned businesses are very different from big corporations. We need both in our economy. But small businesses often operate on very small margins where a single new law, tax or regulation can mean the difference between hiring a new person, offering a year-end bonus or maintaining certain health insurance benefits for your employees. A change in government policy can make the difference whether you invest to grow your business and hire more people – or stay as you are.
I love public service – I've been doing it for nearly 10 years with the school board and legislature. It's important that small business people get engaged with government policymaking so that our views and perspective can be heard and reflected in the decisions made in Salem or local government.