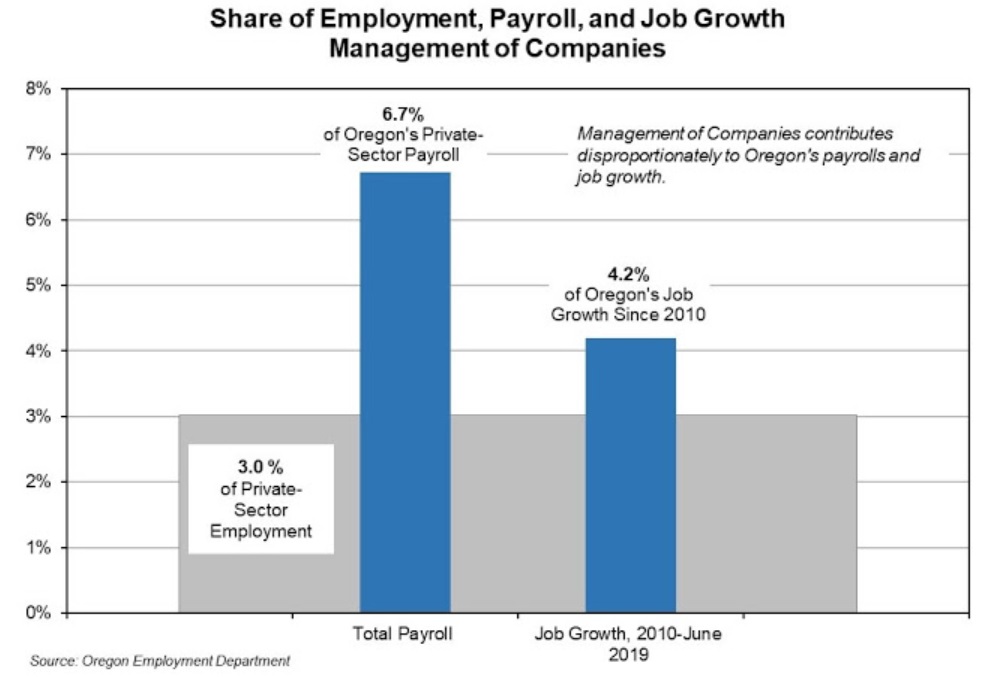 (Oregon's two Fortune 500 companies are Nike, ranked 90th in revenues, and Lithia Motors at 265th).
By Oregon Employment Department,
Oregon is home to just two Fortune 500 firms, but that doesn't mean headquarters aren't an important part of our economy. This sector, called 'management of companies', provides nearly 50,000 jobs that pay a whopping average wage of $119,200; more than twice the average across all industries. While it makes up just 3 percent of Oregon's total private-sector employment, it generates 7 percent of total payroll.
Oregon mirrors the United States in that the vast majority of our headquarters are small: three-quarters employ fewer than 20 people. But the majority of jobs are found in larger companies- more so in Oregon than the nation: 43 percent of the state's employment is in companies with 500-plus employees compared to 38 percent nationally.
Headquarters span a wide variety of industries. In Oregon, they include truck manufacturing (e.g., Daimler); lumber products (Roseburg Forest Products); health care (Kaiser); auto sales (Lithia); utilities (Portland General Electric); and the vacation rental business (Vacasa, Airbnb).
But sportswear dominates. It's not just Nike, with well over 10,000 employees at its Beaverton global headquarters. Columbia Sportswear, adidas, Keen, and LaCrosse all have administrative operations in Oregon. In total, sportswear headquarters account for more than one-quarter of sector employment.
The importance of this sector to Oregon's economy is also reflected in output data. Management of companies contributed 3.2 percent to the state's gross domestic product in 2018. This is significantly higher than the national average of 1.9 percent, and more than all but three states: Arkansas (4.1%), Minnesota (3.7%), and Rhode Island (3.3%).
Read regional economist Amy Vander Vliet's full article here.