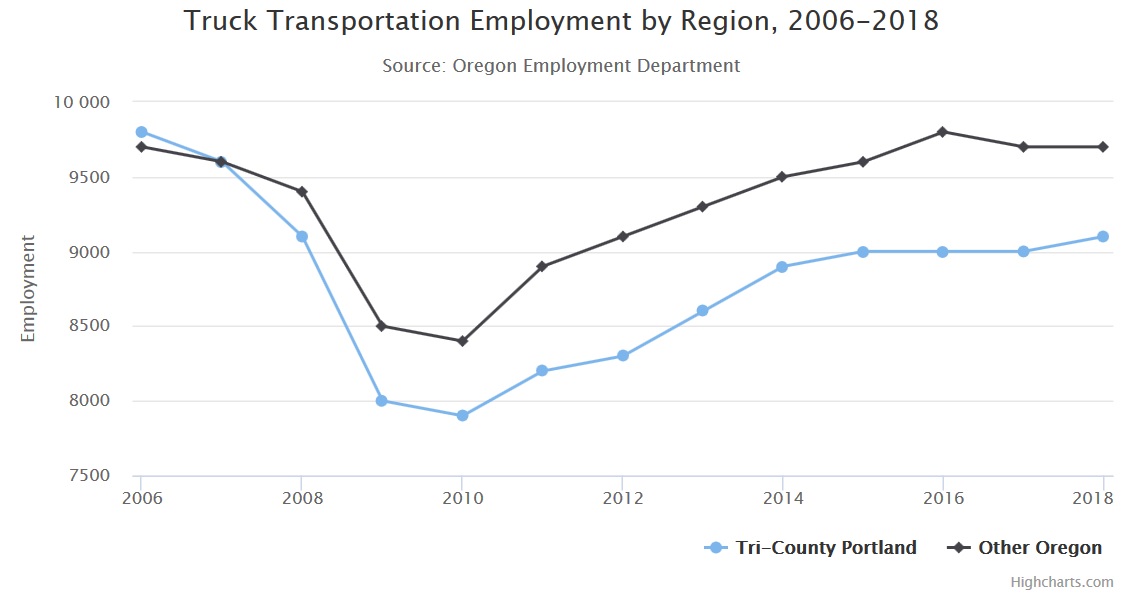 By Oregon Employment Department,
Oregon's truck transportation industry leveled off in 2016, averaging 18,800 jobs, ending a six-year, post-Great Recession growth spurt. The industry's employment held steady in both 2017 and 2018. At its 2006 pre-Great Recession peak, truck transportation averaged 19,700 jobs. Truck transportation hit bottom in 2010 with 16,500 jobs, leaving a gap of 3,200, or 16 percent, to fill.
Based on 2006 employment levels, Portland's tri-county area comprised half of Oregon's truck transportation industry. Moving forward to 2018, its share fell to 48 percent, a difference of about 600 jobs. On a regional basis, the tri-county Portland area experienced a deeper job loss, falling from 9,800 in 2006 to 7,900 in 2010, down 1,900 jobs or 19 percent. Outside the tri-county Portland area, truck transportation peaked at roughly the same level, with just over 9,700 jobs in 2006. But job losses were less severe, falling by around 1,300 or 14 percent to average 8,400 in 2010.
Oregon's truck transportation industry started adding back jobs in 2011, with the tri-county Portland area reaching 9,100 jobs in 2018, an increase of 1,200. Outside Portland, the rest of Oregon performed considerably better, adding more than 1,400 jobs to reach 9,800 in 2016, an increase of 100 jobs over its 2006 peak. Employment outside Portland dropped slightly in 2017 and held steady in 2018 with 9,700 jobs or 52 percent of Oregon's total.
To learn more, read the full article written by Regional Economist Dallas Fridley.