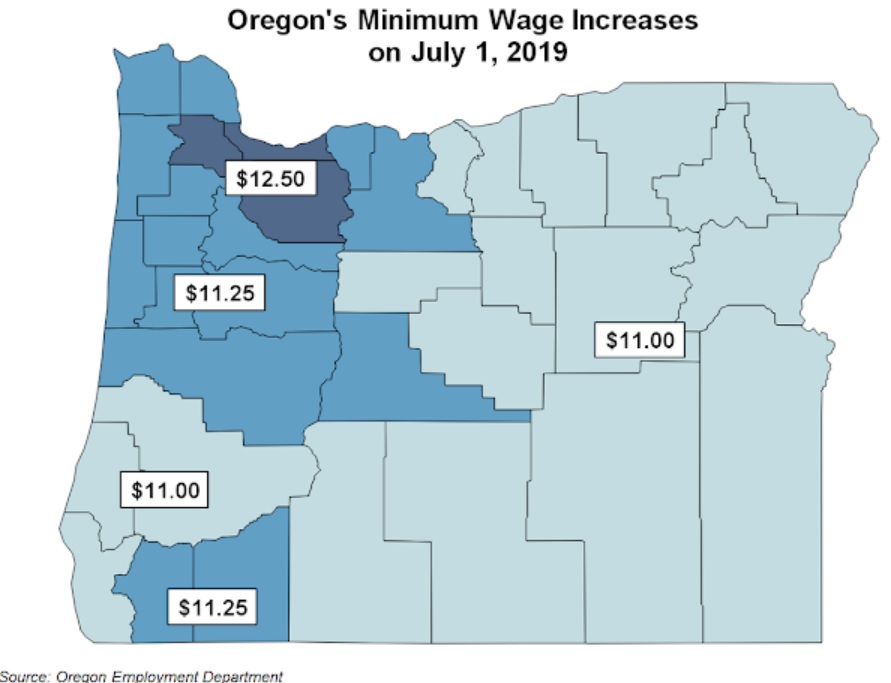 By Oregon Employment Department,
Oregon's minimum wage increases on July 1, 2019, but the raises won't be the same across the state. The minimum wage increases to $12.50 per hour inside the Portland urban growth boundary, $11.00 per hour in nonurban counties, and $11.25 in other areas of the state.
Oregon's three minimum wages will be in the top nine state-level minimum wages in the nation. The highest minimum wage will be in the District of Columbia ($14.00), followed by Massachusetts and Washington ($12.00); Colorado and New York ($11.10); and Arizona, California, and Maine ($11.00). The federal minimum wage will remain at $7.25 per hour.
Oregon's minimum wage levels were set by Senate Bill 1532 in 2016. The minimum wage increases on July 1 each year through 2022. There are three tiers of step increases based on geography. Beginning in 2023, minimum wage in all tiers will be adjusted for inflation. This means the minimum wage will maintain purchasing power after the last step increase in 2022.
See our report Oregon's Minimum Wage Jobs: Facts, Figures, and Context for historical information about Oregon's minimum wage jobs.