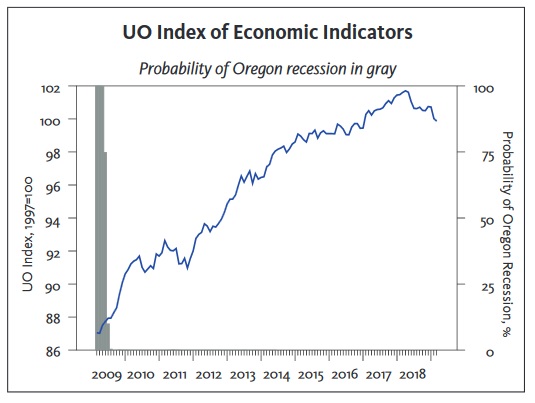 Timothy A. Duy
Director, Oregon Economic Forum
Department of Economics, University of Oregon
The Oregon Measure of Economic Activity rose to 0.66 in March, up from an upwardly-revised 0.50 in February. Highlights of this month's report include:
– The moving average measure, which smooths out the volatility, edged up to 0.90, well above average ("zero" indicates average growth over the 1990-present period).
– Only the manufacturing sector, weighed down by the hours worked component, made a negative contribution; hours worked appears unusually weak and inconsistent with the broad trends in manufacturing data.
– Rising building permits supported the construction sector while a rebound in job growth helped stabilize the services sector. The household sector continues to make a solid positive contribution, buoyed by low unemployment numbers.
– Building permits (smoothed) continue to edge higher, rebounding from last year's softening. This suggests the underlying demand for housing remains solid. Consumer sentiment continues to hover near recent highs. In a good sign that firms remain willing to invest in new equipment, core manufacturing orders rose to its highest level since October.
– The recent decline of the UO Index remains insufficient to raise imminent recession concerns. It's behavior instead is consistent with a mature business cycle in which growth is relatively slower compared to early in the expansion. Indicators overall still suggest the economy is poised for continued growth.