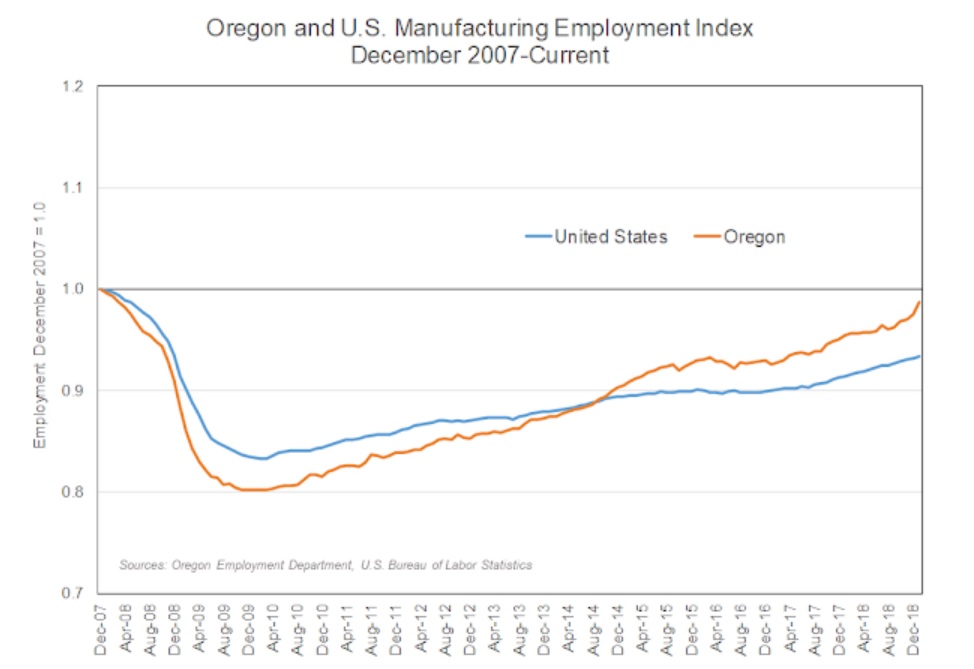 By Oregon Employment Department,
Oregon-made products have secured a spot on store shelves around the country, and even the world. Some of these products have obvious Oregon roots, tasty things like marionberry jam, cheese, fine wines, and beers that say 'Oregon' right on the label. Some Oregon-made products remain out of view, however. For example, components in the device you're reading this article with might have been made right here in Oregon. Whether you can see it on the label or not, Oregon's manufacturing sector produces products ranging from basic wooden pellets to precise aerospace parts. The diverse sector is a fundamental component of the state's identity, and will remain so as it continues to grow.
A manufacturing establishment is defined as an establishment that mechanically, physically, or chemically transforms material, substances, or components into new products. In the third quarter of 2018, Oregon was home to 6,284 manufacturing establishments, providing the state with 198,000 jobs.
Oregon's manufacturing sector is growing more quickly than the nation's. Since its lowest employment level in February and March 2010, manufacturing employment in Oregon has grown by 23 percent compared with the nation's 12 percent. Over the year, Oregon saw manufacturing growth of 2.6 percent, higher than the nation's 2.0 percent. However, as of January 2019 manufacturing employment in Oregon is still 8,500 jobs below its pre-recession peak in July 2006.
On top of faster growth, Oregon's manufacturing sector is also a larger component of the economy than it is for the nation. While manufacturing made up 8.5 percent of payroll employment in the United States in 2018, it made up 10.2 percent of Oregon's employment.