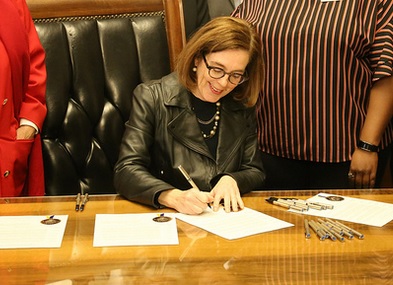 By Wall Street Journal Editorial, 3,4,19
Governor Kate Brown signed legislation last week making Oregon the first state to enact statewide rent control. One would be hard put to identify an economic policy with a more proven record of destruction. Democrats say the law will ease the state's housing-affordability crisis, but it will make it worse.
Effective immediately, the law prohibits landlords from raising rent by more than 7% over inflation on non-subsidized buildings, with exemptions for the first 15 years of occupancy. It severely restricts when landlords can evict renters without cause. Even with cause, property owners will often be required to provide a month of free rent to subsidize the evicted tenants' moves elsewhere.
The history of price controls on rents tells us what is likely to happen now in Oregon. Rent restrictions create an incentive for developers to maximize profits by building high-end apartments rather than units affordable to lower- and middle-class families. Some developers may opt not to build at all in Oregon. And as the new eviction rules give landlords less control over their residential property, they'll have an incentive to demolish existing affordable housing and use land for commercial buildings.
The state's affordability problem is real. Oregon's population has grown by nearly 10% since 2010, but construction hasn't kept pace. Between 2010 and 2016, Oregon produced 63 new housing units for every 100 new households formed, according to the nonprofit Up for Growth. Rents naturally rise when demand exceeds supply.
Oregon's housing woes originated in the 1970s when lawmakers tried to reduce sprawl and preserve land for farms and forest. They imposed "urban growth boundaries" on every city in the state with limits on construction outside these perimeters.
As a result, Oregon's fast-growing cities now resemble a fat man trying to squeeze into a small pair of pants. In 1990 Bend's population was 20,000 and the urban growth boundary included 20,600 acres. The population has since nearly quintupled to 95,000 but the boundary expanded to only 24,000 acres.
Since 2010 Portland has added more than 64,000 residents but gained only 5,500 acres. The predictable result: artificial scarcities of land, sky-high property prices and, inevitably, higher rents for existing apartments. Nationwide, regulatory red tape accounts for nearly a third of the development costs for multifamily homes, and Portland's permitting process is especially onerous.
In 2017 Portland began enforcing an "inclusionary" zoning policy that forces landlords to rent between 8% and 15% of their units below market rates. Multi-housing permits in the city have since plummeted by 64%, according to HFF, a commercial real estate and capital markets services firm.
The solution to this mess? Statewide rent control! Oregon, a very liberal state, re-elected Ms. Brown in November. The rest of the country should keep an eye on what happens now to the cost and availability of shelter in Oregon.