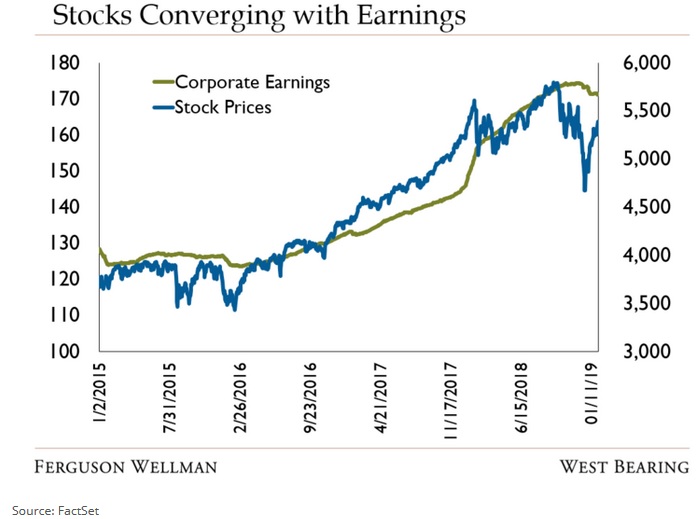 Ferguson Wellman
Oregon based Capitol Management Firm
by Peter Jones, CFA
Vice President of Research
One of the four takeaways from our 2019 Economic Outlook is "Increased Turbulence" which has been in full force this winter. In December, the S&P 500 lost 13.5 percent, including the "Christmas Eve Massacre," making it the worst December since 1931. In a complete reversal, the market returned 8 percent in January, representing the best January return in 30 years. Just like stock prices, the market narrative has done a complete 180º since December. In December, investors feared worsening trade tensions between China and the U.S., an overly-aggressive Federal Reserve, and viewed earnings expectations as too high. Just one month later, investors are sanguine on U.S.-China trade discussion, the Fed has turned more dovish, and corporate earnings releases are being rewarded.
Over the long-term, stock prices follow earnings, but investor psychology can drive periodic dislocation between the two, an event which is shown in the chart below. Stock prices have been driven by rising corporate earnings until late last year, when the fears discussed earlier caused a large divergence between the two.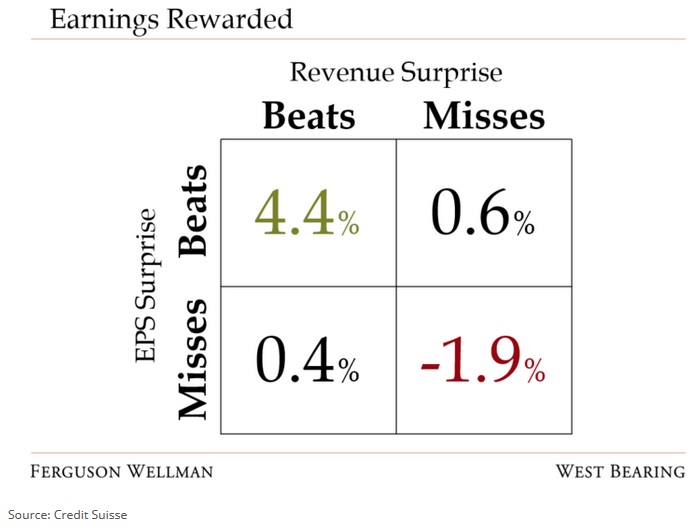 Companies that report stronger than expected revenues and earnings have risen by 4.4 percent on average whereas companies that have missed revenues and earnings have declined by just 1.9 percent. Now that stocks have rallied 15 percent from their Christmas Eve lows, we expect the threshold for positive surprises to begin rising once again. Now that stock prices have converged with earnings (first chart) it will have to be rising profits, not mean reversion, that drive stocks higher from here.
Week in Review and Our Takeaways:
– Stocks returned 8 percent in January, the best start in 30 years
– The U.S. government shutdown had a limited impact on hiring decisions as the U.S. economy added 300,000 jobs in January
– Further gains in markets will be driven by rising corporate profits