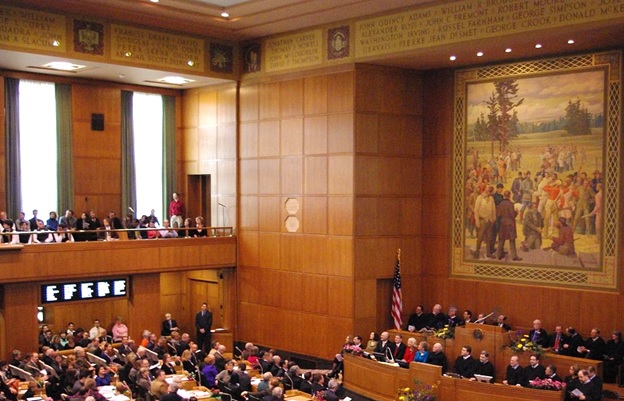 By Oregon restaurant and Lodging Association
With a Democrat supermajority in both the Oregon House and Senate, ORLA's Policy Committee will be fine tuning the hospitality industry's approach to the 2019 Oregon Legislative Session which began officially on Tuesday, January 22.
The following are potential components to ORLA's advocacy work inside the halls of our capitol building.
Following Seattle's Lead on a Tip Credit
Restaurant operators are continuing to face significant pressures and slim profit margins (especially in full-service models) due to an ever-increasing minimum wage that does not consider tip income. ORLA is currently undertaking a study to research the current ranges of hourly income being earned by tipped workers to assist legislators in understanding the discrepancy in wages between the front and back-of-the-house. Tip pooling in Oregon for back-of-the-house workers is a major win for the industry, but a tip credit can more accurately provide income equality for Oregon's restaurant industry. In Seattle, some employers have access to a $2.50 tip credit if they offer health insurance to their employees. We would like to see Oregon's legislators consider a similar scope for the sustainability of the full-service restaurant model.​
ORLA's Government Affairs Team consists of a group of professionals dedicated to promoting and protecting the food service and lodging industry.
​Instituting a Pass/Fail System for Restaurant Inspections Statewide.
Under current state law, county health inspectors provide a foodservice inspection grade on a scale of 0-100 with any score at 70 or above constituting passing. Unfortunately, county health inspector grades can be seen as an overall restaurant quality grade in the eyes of consumers which is not the intent of the law. If any score at 70 or above constitutes a safe environment for public food consumption, then why not move to a pass/fail system for all grades? A pass/fail system would allow all operators to compete on the merits of food quality, customer service, and overall customer experience.​
Protecting Dedicated Local Lodging Tax Funds for Tourism Promotion and Facilities.
Since lodging tax reforms in 2003, Oregon has seen the power of tourism and its positive economic impact for the people of our state. Tourism continues to produce results for us as an export economy. According to a report by Longwoods International, every dollar we invest outside of Oregon in tourism promotion results in $237 in visitor spending and $11 in local and state tax revenue. Our achievements in tourism must be nurtured and continued strategic promotions will be necessary to encourage domestic and international travelers to choose our great state for their next professional or personal experience.
​The Details Behind Paid Family Leave.
The number one labor policy priority for Democrats in control of the Legislature will be passing paid family leave legislation in Oregon which already exists in both California and Washington. Paid family leave will require a great deal of attention to detail as Oregon's structure for creating a viable system will differ from that of our neighbors. ORLA believes in the concept of paid family leave and would like to work with legislative leadership to find a way to set up an employee paid system providing financial security for both planned and unexpected immediate family circumstances which require time away from work.
Statewide Approach to Single-Use Disposables.
ORLA is a staunch proponent of laws which treat all Oregonians equally. We commonly refer to this work as establishing preemptions in an effort to create consistency in business. The City of Portland has passed an ordinance for on-demand plastic straws and single-use plastics (SUDs) like utensils for to-go orders. For Portlanders and ORLA members in the marketplace, this is good news compared to outright bans on these products. Given interest amongst legislators, ORLA will discuss options for creating a permanent model for plastic use at the statewide level to avoid the inconsistent policies that will otherwise pass at local levels of government across the state.
Protecting Oregonians from "Home Commercial Kitchens"
A new law passed in California allows for the limited sale of food products to the public using home kitchens. ORLA will fight against these pursuits as a matter of health and safety for the general public. Stringent health and safety regulations are in place for a reason and maintaining these commitments for all food sales to the public will be a top priority.
Short-Term Rental Safety and Code Compliance
ORLA continues the important work of reining in illegal hotels which continue to host guests without complying with safety regulations applying to the rest of the hospitality industry. Online Travel Agencies (or OTAs) should require all hosts on their website to prove safety compliance with the designated local jurisdiction and also prove appropriate home insurance coverage for accommodating out of town guests in exchange for money.
During this session ORLA will be tracking several bills and engaging on those particularly to the hospitality industry. Members are encouraged to stay informed and engaged on the issues by subscribing to ORLA communications. If you have any questions, contact Greg Astley, Director of Government Affairs, at [email protected]