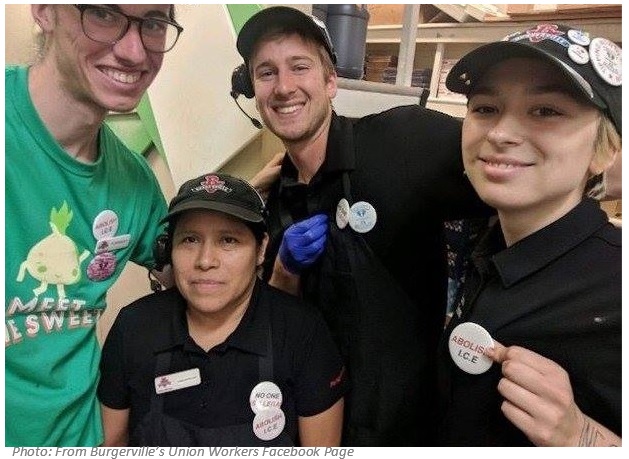 By Oregon Small Business Association Foundation,
After 10 workers at a Burgerville restaurant in Portland pinned "Abolish Ice" and "No one is illegal" buttons on their clothing in August, the Pacific Northwest fast-food chain quickly put in writing a policy banning any personal or political messages on uniforms.   The issue made national news.
When the workers refused to remove the buttons advocating elimination of the Immigrations and Customs Enforcement Office, company managers sent them home, according to a Sept. 9 national article in The Hill. The workers wore the buttons in silent protest of President Trump's immigration policies and support for Democratic politicians campaigning for dissolution of ICE.  Even though the workers were sent home, they were later provided back-pay for time lost.
According to the Burgerville Union Facebook page the recent corporate policy change also included a new policy allowing workers to include their gender pronouns on their name tags.
Customers complained about the buttons, according to Liz Graham, Burgerville's human resources director. She told The Oregonian that some employees also felt uncomfortable when the buttons drew unwanted attention to them.
The protest triggered Burgerville officials to put in writing its longstanding verbal policy against wearing personal and political buttons on their uniforms so the restaurants create a "universally welcoming and inclusive environment."
The new rule takes effect Sept. 13.
Burgerville employees made history last spring when they formed the first fast-food workers' union, the Burgerville Workers Union. Critics point out that it is interesting that one of the first acts of Burgerville's new union members would have the effect of abolishing another union organization.