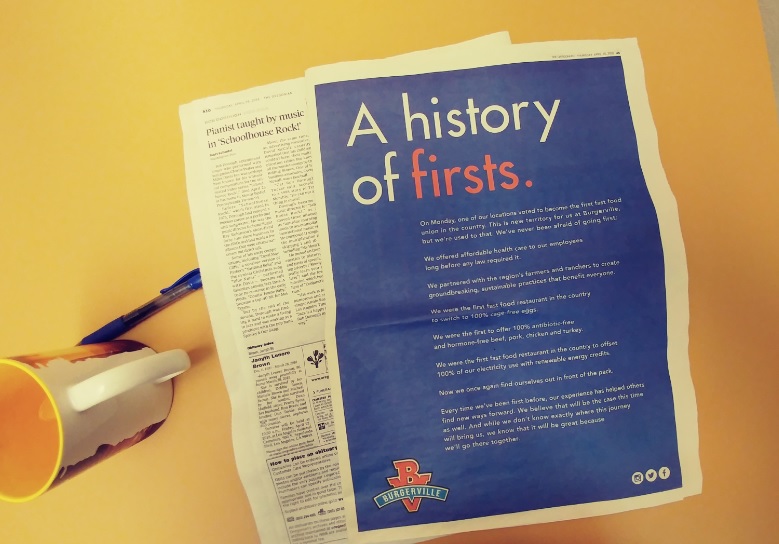 By Oregon Small Business Association Foundation,
The above full-page ad in the April 26th Oregonian newspaper touts the historic union vote as well as Burgeville's other ground breaking decisions such as being the first to offset 100% of their electricity with renewable energy and the first to serve 100% cage free eggs and antibiotic/hormone free products.
Workers at a Burgerville location in Portland voted to unionize in large part to boost their hourly wages by five dollars.
In a two-day election, 18 of the 29 employees at the Southeast 92nd Avenue and Powell Boulevard location voted to join the Burgerville Workers Union, according to an Oregon Public Broadcasting article. The Industrial Workers of the World launched a campaign to unionize the workers two years ago. After a majority favored the move in an election supervised by the National Labor Relations Board, owners of the fast-food restaurant will be required to negotiate with workers.
Employees have sought higher waters, greater access to affordable health care, and parental leave. Workers earn minimum wage or slightly above.
"A lot of us need the money," said Nicholas Jones, who has worked three years at Burgerville's 92nd and Powell location. "We work hard but can't get by on what they pay us … I got one baby and maybe $11.65 an hour just isn't enough. Poverty is poverty."
Burgerville is one of the only federally recognized unions in the fast-food industry, which might prompt workers at other small chains to organize. Employees in several cities have pushed for higher wages, such as $15 an hour.
Burgerville executives have denied accusations that the company discouraged formation of the union, noting that the NLRB found no basis for such charges. Terminations have occurred for theft, safety, and security violations rather than union activity, they said.
After the election, Burgerville released a statement authored by Beth Brewer, senior vice president of operations.
"Our employees have spoken, we hear them, and we support their decision," she wrote. "We will navigate this new working relationship together in a positive, productive way and bargain in good faith with the union."
Employees at a Burgerville in Gladstone, Oregon, are pursuing a union vote as well.