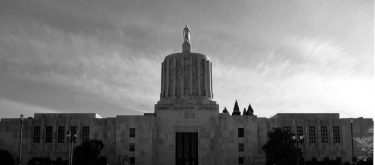 Oregon Adds 11,600 Jobs in October
by Felicia Bechtoldt
Oregon Workforce and Economic Information
In October, Oregon's nonfarm payroll employment rose by 11,600 jobs, following a revised loss of 1,100 jobs in September. The gain in October was the largest monthly increase since 14,100 jobs were added in February 2017.
Monthly gains were concentrated in professional and business services, which added 5,300 jobs, and in leisure and hospitality, which added 3,800. Both of these industries rebounded from job losses within the prior two months. Three other industries each added at least 1,000 jobs in October: other services (+1,400 jobs); manufacturing (+1,000); and transportation, warehousing, and utilities (+1,000). Retail trade cut 900 jobs, posting the biggest monthly job decline.
The big job gain in October, coupled with the upward revision to September, considerably boosted Oregon's over-the-year growth rate. Since October 2016, Oregon has added 45,000 nonfarm payroll jobs, which equals an annual growth rate of 2.4 percent. Construction continues to lead the way with 9,400 jobs added, equaling 10.3 percent growth. The second fastest growing industry was transportation, warehousing and utilities (+3,400 jobs, or 5.6%).
Oregon's unemployment rate was essentially unchanged at 4.3 percent in October from 4.2 percent in September, remaining near the U.S. unemployment rate of 4.1 percent in October.