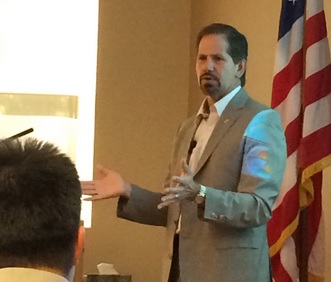 By Oregon Medical Association
The OMA's Board of Trustees met last weekend at the Oregon Medical Education Foundation Conference Center in Portland.  From patient privacy and information access, to the opioids epidemic, to aid in dying, the all-volunteer board engaged in meaningful dialogue surrounding real issues physicians and physician assistants face in their work.
The board enjoyed a brief talk by guest speaker (and OMA member) Dr. Knute Buehler, Oregon State Representative from Bend, who spoke on the topic of healthcare reform in Oregon, including legislative response to the opioid crisis.  The board voted on five important policy resolutions, items that arose since the board last met in January of 2016:
Opioid Prescribing Policy: The board adopted an official policy on opioid prescriptions that endorses increased access to non-opioid modalities, evidence-based guidelines for safe treatment of chronic pain and regular use of the Prescription Drug Monitoring Program.
OpenNotes Initiative: After spirited discussion, the board adopted a policy encouraging physicians to provide patients access to their visit notes through systems such as the OpenNotes software, with a goal of greater patient engagement and involvement. An amendment to the initiative, also adopted, accounts for cases in which such access could be detrimental to the patient's care or to the provider-patient relationship.
Patient Privacy Protection with Drone Usage: The board referred this initiative, which addresses patient privacy in the era of private drone usage, to committee for additional research and refinement.
Aid in Dying as End-of-Life Option: The issue of Physician Assisted Suicide (PAS, now referred to as Aid-in-Dying) was vigorously debated at OMA's House of Delegates nearly twenty years ago; at that time the association reached a neutral position of neither opposing nor supporting PAS. The American Medical Association's (AMA) current position opposes Physician Assisted Suicide. Given that Aid-in-Dying has existed in Oregon for nearly twenty years, at the June meeting the OMA Board of Trustees took up a resolution that requests the AMA study the issue of medical aid-in-dying, considering both data collected from states that currently authorize the practice, and input from physicians who have provided aid in dying to qualified patients. After discussion on the issue and some amendment of the resolution, the board passed the recommendation requesting the AMA's study of the issue. OMA will continue its neutral stance.
Adoption of CDC Opioid Prescription Guidelines: A motion from the floor, which the board passed after brief discussion, states that the OMA supports the Oregon Opioid Prescribing Task Force in adopting the CDC guidelines for prescribing opioids for chronic pain.