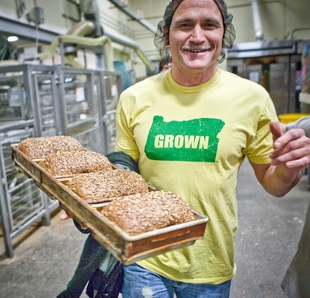 Dave's Killer Bread Being Sold
By Oregon Small Business Association Foundation
Dave's Killer Bread, the best-selling organic bread in the nation, is being sold to Flower Foods, Inc. for $275 million. The company, founded by the Dahl family as Nature Bake in 1955, assumed the name of its best-selling variety after Dave's Killer Bread launched as an instant success at the Portland Farmer's Market in 2005.
Offering 17 varieties of whole-grain organic bakery products across the U.S. and Canada, Dave's Killer Bread is the largest organic bread company in North America and is certified USDA organic and non-GMO Project verified. The company employs over 300 people in Milwaukie, OR and will remain as an independent subsidiary of the operation with plans to expand.
Dave Dahl, the "face of Dave's Killer Bread," and his brother, Glenn Dahl have established a nonprofit foundation focused on giving a second chance to people with a criminal background. One of three current employees has such a history. The mission of Dave's Killer Bread Foundation "is to inspire other businesses to become Second Chance Employers to affect positive societal change." It will offer programs for employers interested hiring people with criminal backgrounds, is producing a Second Chance Playbook & Workshop and is organizing the Second Chance Employer Network. The foundation will host an annual Second Chance Summit in Portland on Oct. 16.