Oregon Employment Department,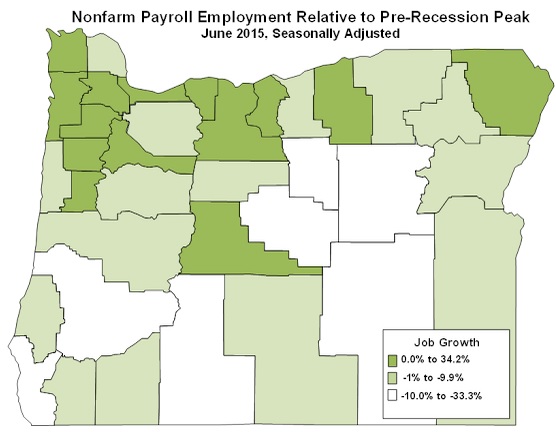 Recently, we posted about the recovery of Oregon's jobs to pre-recession levels across higher-, lower-, and mid-wage industries alike in the fourth quarter of 2014. We also mentioned that Oregon's total nonfarm employment also returned to (and exceeded) pre-recession levels in the fourth quarter.
Today we're taking a different angle on the jobs recovery. This one shows the uneven distribution of those recovered jobs across the state. Although Oregon's economy continues to expand, that hasn't translated into the return of jobs everywhere. As of June, payroll employment sat below the pre-recession peak in 22 of Oregon's 36 counties.
Counties in many of Oregon's metropolitan areas are leading the charge in employment growth. Multnomah and Washington counties combined for a net gain of 43,000 jobs relative to their pre-recession maximum. The Salem metro area shows a net increase of 2,900 jobs (1.9%) and Corvallis is up 2,500 (6.3%) jobs. Bend's net growth now totals 2,000 jobs (2.8%). Not all metro areas are back to the "break-even" point though: Medford (-2.7%), Eugene (-3.7%), Albany (-4.5%), and Grants Pass (-4.9%) still fall short.
Although they're among the counties with a pre-recession employment recovery, each of these non-metro counties show a net gain of less than 200 jobs: Clatsop, Sherman, Wallowa, Tillamook, and Hood River County.