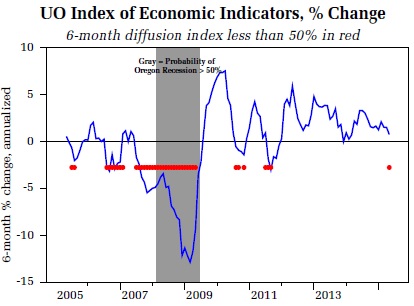 University of Oregon Regional Economic Indexes
By Tim Duy
Oregon Economic Forum
University of  Oregon
Softness in employment components dragged down the Oregon Measure of Economic Activity in May to a near-average level. Highlights of the report include:
– The three-month moving average of the Oregon Measure of Economic Activity, which smooths month-to-month volatility in the measure, fell to 0.21, where "zero" for this measure indicates average growth over the 1990-present period.
– The manufacturing and construction sectors had a nearly neutral impact on the measure while the household sector's impact was positive. The services sectors, comprised of employment components, contributed negatively. The construction sector's contribution was again held down by below average residential permits although construction employment was supportive.
– Following the pattern of recent months, low levels of initial unemployment claims, a low unemployment rate, and above-average consumer sentiment all supported the household sector. Weak labor force numbers continue to be something of a puzzle; faster labor force growth is traditionally associate with Oregon expansions. Continued weak labor force growth could curtail the ability of Oregon firms to expand.
– The University of Oregon Index of Economic Indicators rose 0.1% in May, although more than half of the components were softer over the past six months, consistent with the generally sideways movement of the index during more mature expansions.
– Residential building permits (smoothed) slipped. The Oregon weight distance tax (a measure of trucking activity) and core manufacturing orders (a national indicator) have both held fairly steady for the past three months. The interest rate spread rose as incoming national data reassured market participants that the US economy remained steady.
The two indicators suggest ongoing growth in Oregon at an average to above average pace of activity. The ongoing US economic expansion provides sufficient support to expect that Oregon's economy will continue to grow for the foreseeable future.