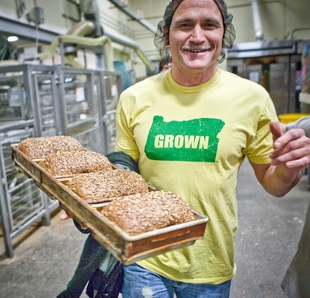 Dave's Killer Bread expands to all 50 states
By Oregon Small Business Association
By the end of May, Dave's Killer Bread will be available in all 50 states. The Milwaukie organic bread company has expanded explosively since Dave Dahl, fresh out of prison, first began to sell his experimental bread at the Portland Farmers' Market in 2005. The innovative bread and Dave's story of an ex-con who turned his life around proved popular in the Northwest, and the company grew quickly. In 2012, Dave's Killer Bread sold a 50% stake in the company to Goode Partners, a New York private equity firm. With the help of Goode Partners' investment, Dave's Killer Bread continued to expand eastward across the country. It has hit an annual growth of about 20 percent and revenues of over $70 million.