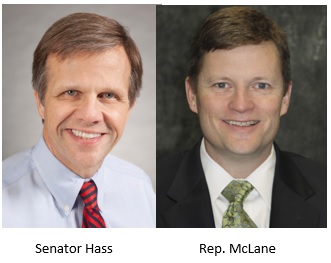 By Taxpayer Association of Oregon Foundation
A rare bipartisan effort for a major tax reform has been advanced with SB 661 which aims to fix Oregon's 1800's tax structure that finds itself destroying 21st Century technology. Two lawmakers stand-out on this issue, State Senator Mark Hass who began and championed the bill through the Senate and State Representative Mike McLane who made this issue a signature vision going back to several years to a problem within his own district.
The problem behind Oregon's dysfunctional assessment code began in 2012 when Facebook saw their 333,400 square foot data center & rural Oregon job hiring plans derailed by a surprise tax threat that took their taxes from $26,000 to $360,000 based on a sudden change in intangible tax. It caught Re. McLane's attention as well as the entire state — including the nearly 100 data centers in Oregon. The dysfunctional tax structure has far-reaching impacts on many technology companies. For instance, if Google Fiber wished to spend $300 million expanding into Oregon, it would cost them $91 million in taxes. Cable is hits hard as well, as Comcast finds Oregon among the costliest in the state, three times just to be in Oregon, which end up hindering their efforts to provide more choices and more economical prices to its customers.
The fault of not fixing it soon will have immediate consequences. Apple may pull out of Oregon if the law is not changed. Facebook's plans to expand a third or fourth data center are also in jeopardy. Amazon says that their expansion plans depend on these changes. The stakes could not be higher. Rep. McClane says "Oregon has faced a disaster when it comes to communication companies, but we are all pulling together to find a solution so our state can become a better place for all technology companies of the future."
SB 611 exempts data centers from central assessment and caps it on certain cable TV companies. The bill also creates a new central assessment exemption for super-fast internet services known as gigabit service (1,000 megabits per second) which is being rolled out across the nation.
By modernizing the centennial plus tax code opens the door to new technology but also means less revenue — about $8 million for local governments. Those local governments will however see increased jobs and construction that will bring in new revenue. Portland opposed the current changes. Washington County, a national attraction for large tech firms, supported the bill. Senator Hass stated on the bill that, "[w]e have tackled an economic development challenge and agreed on a solution that will create jobs in rural Oregon while bolstering the state's reputation as a technology hub in the U.S."
The bill heads to the governor for a vote.