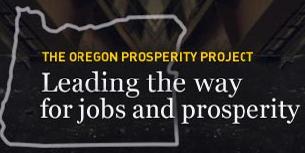 By Oregon Prosperity Project,
The 2015 Oregon Legislative Session has just begun, and the Senate (SB 454) and the House (HB 2005) have already introduced bills for mandatory employer-provided paid sick leave. Both of these bills are comparable in their details; every employer, no matter the size, would be required to provide 56 hours—7 days—of paid sick leave time per year. Employees would accrue one hour of paid sick leave for every 30 hours worked.
SB 454 and HB 2005 have a valiant goal; they aim to reduce the number of sick people at work and to limit the spread of disease. But Oregon's sick leave bill is very different from the other 18 implemented paid sick leave laws in states and cities across the U.S.
For starters, Oregon's sick leave bills do not exempt small employers who often cannot afford to provide paid sick leave of more than a week's wages and benefits to each of their workers. In 2010, Oregon's small businesses with 1-19 employees accounted for more than 88% of all employers. While larger businesses may be equipped to deal with the added costs of paid sick leave, many small businesses are not. For example, small companies are unlikely to have other employees who can fill in for the sick employee during the leave. Thus, in some cases, the company will need to hire—and pay for—additional help in order to keep operating on schedule.
That's why all but two of the U.S.'s 18 implemented paid sick leave policies exempt small businesses. For instance, under Massachusetts' new paid sick leave law, employers with 10 or fewer employees must only grant unpaid—not paid—leave of up to 40 hours a year, and in Connecticut employers with less than 50 employees are exempt entirely from mandated paid sick leave.
Oregon's paid sick leave bills do not make any attempt to reduce the impacts on small businesses. Instead, they apply to every business.
And, Oregon's proposal for paid sick leave time is much more generous than in other areas; Oregon's law would require 56 hours of paid sick leave whereas 14 of the 18 other paid sick leave policies mandate a more reasonable 40 hours or less of paid sick leave for any employer size. Of the four policies which require more than 40 hours of leave for certain sizes of employers, none require more than 40 hours for small businesses with fewer than 10 employees.
While paid sick leave may seem like a good idea on paper, Oregon's paid sick leave bill does not account for the 78,000 small businesses across Oregon who are often not large enough to afford the high costs of 56 hours a year of paid sick leave.