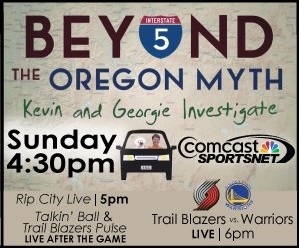 From Third Century Solutions,
A documentary film, "Beyond the Oregon Myth, Kevin and Georgie Investigate," was released today by Third Century Solutions, LLC. The movie shows that Oregon's long economic decline did not happen by chance, but rather is the result of longstanding policies that continue to be supported by many of Oregon's elected leaders.
In the movie, the main character and his intrepid dog Georgie embark on a journey around the state to investigate for themselves whether the mythical image of Oregon heralded by the east coast media holds true. Their travels take them to Sherman County, Yamhill County wine country, Lane County, Coos County and the metro area. They find Oregonians living a much different reality than the utopian image often depicted in the New York Times.
The 30-minute film was created by Rob Kremer and Third Century Solutions partners Bridget Barton and Jim Pasero. The purpose of the movie is to educate Oregonians about the true cost of the policies that have been favored by elected leaders in both parties in Oregon over the last three decades.
The movie will be distributed through social media, paid advertising and through TheOregonMyth.com web site.