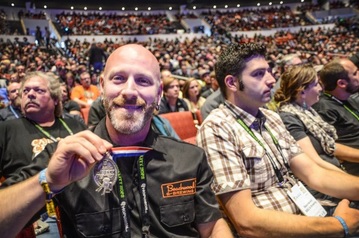 By Oregon Brewers Guild
Oregon Breweries Take Home 23 Medals At The 2014 Great American Beer Festival
Oregon breweries claimed a total of 23 medals, the second most ever at the 2014 Great American Beer Festival (GABF) held  in Denver, Colorado.
Oregon Breweries brought home eight gold medals, eight silver medals and seven bronzes. The Portland Metro area brought back 8 medals, Central Oregon had with five medals, Eastern Oregon and the Coast won four medals and Mt. Hood/The Gorge and Southern Oregon each received one medal.
The GABF is the world's largest beer competition and recognizes the most outstanding beers that were entered in the competition from the United States. The top three medalists in each of the competition's 90 beer-style categories were announced October 4th at the 33rd Great American Beer Festival Awards Ceremony held at the Colorado Convention Center.
The 2014 GABF Competition winners were selected by an international panel of 222 beer experts from an impressive field of 5,507 entries received from 1,309 U.S. breweries.
Items of note from the 2014 GABF Competition:
Four breweries tied for most medals won, with three medals each: Two were from Oregon, 10 Barrel Brewing Co. and Barley Brown's Brew Pub.
The Gold medal winner in the most-entered category for the second year in a row in the American-Style India Pale Ale category with (279 entries) went to an Oregon Brewery to Breakside Brewery for Breakside IPA
It was the second year for the Fresh or Wet Hop Ale category and for the second year in a row the Gold medal went to an Oregon brewery to Barley Brown's Brewpub for Fresh Hop Pallet Jack IPA, which won the Bronze medal in this category in 2013.
.
2014 GABF Medal Winners made by Oregon Breweries or by Oregon Brewing Companies:
Category: 1 American-Style Wheat Beer – 31 Entries
1. Bronze: Amber Waves, 10 Barrel Brewing Co., Bend
Category: 2 American-Style Wheat Beer With Yeast – 44 Entries
2. Silver: Hefeweizen, Widmer Brothers Brewing Co., Portland
Category: 4 Fruit Wheat Beer – 65 Entries
3. Gold: Apricot Ale, Pyramid Breweries, Portland
Category: 5 Belgian-Style Fruit Beer – 41 Entries
4. Bronze: Poire du Pélican, Pelican Pub & Brewery, Pacific City
Category: 7 Field Beer – 46 Entries
5. Gold: Cucumber Crush, 10 Barrel Brewing Co., Bend
Category: 17 Fresh or Wet Hop Ale – 34 Entries
6. Gold: Fresh Hop Pallet Jack IPA, Barley Brown's Brew Pub, Baker City
Category: 18 Indigenous/Regional Beer – 31 Entries
7. Gold: Salmonberry Sour, Bend Brewing Co., Bend
8. Bronze: Sage Fight IPA, Deschutes Brewery, Bend
Category: 20 Gluten-Free Beer – 20 Entries
9. Gold: Dark Ale, Ground Breaker Brewing, Portland
Category: 22 American-Style Sour Ale – 56 Entries
10. Silver: Myrtle, The Commons Brewery, Portland
Category: 23 American-Style Brett Beer – 44 Entries
11. Silver: Peche 'n Brett, Logsdon Organic Farm Brewery, Hood River
Category: 28 Kellerbier or Zwickelbier – 48 Entries
12. Gold: Gold Beach Lager, Arch Rock Brewing Co., Gold Beach
Category: 40 European-Style Dunkel – 23 Entries
13. Silver: Buoy Dunkel, Buoy Beer Co., Astoria
Category: 47 German-Style Kölsch – 84 Entries
14. Silver: I'd Like to Buy the World a Kolsch, Old Town Brewing Co., Portland
Category: 48 English-Style Summer Ale – 37 Entries
15. Bronze: Surfer's Summer Ale, Pelican Brewing Co., Tillamook
Category: 49 Classic English-Style Pale Ale – 33 Entries
16. Silver: Caldera Ashland Amber, Caldera Brewing Co., Ashland
Category: 51 International-Style Pale Ale – 88 Entries
17. Gold: Hand Truck Pale Ale, Barley Brown's Beer, Baker City
Category: 53 American-Style Strong Pale Ale – 134 Entries
18. Bronze: Breakside Wanderlust IPA, Breakside Brewery, Milwaukie
Category: 54 American-Style India Pale Ale – 279 Entries
19. Gold: Breakside IPA, Breakside Brewery, Milwaukie
Category: 65 American-Style Black Ale – 72 Entries
20. Bronze: Turmoil, Barley Brown's Brew Pub, Baker City
Category: 69 German-Style Wheat Ale – 29 Entries
21. Silver: Weizenbock, 13 Virtues Brewing Co., Portland
Category: 83 American-Style Stout – 48 Entries
22. Silver: Disorder, Barley Brown's Brew Pub, Baker City
23. Bronze: P2P, 10 Barrel Brewing Co., Bend
Filed Under: Central Oregon, Eastern Oregon, Mt. Hood and the Gorge, Oregon Coast, Portland Area, Southern Oregon