From NIKE,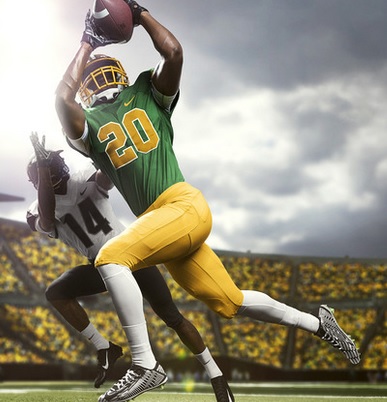 No single moment in University of Oregon football history has been seared into the memories of long-time Ducks fans any deeper than one play — and few are more recognizable than "The Pick," even 20 years later. Seldom do the fortunes of two college football programs hinge on the outcome of one game, but in a mere 16-second turnaround on Oct. 22, 1994, Kenny Wheaton and the Oregon Ducks created pandemonium in the aisles of Autzen Stadium.
"The Pick" needs no further explanation for legions of Oregon enthusiasts. Wheaton forever won a place in the hearts of its faithful with his 97-yard interception return against the University of Washington that sealed a 31-20 win and propelled the 1994 Ducks toward their first conference crown in 37 years.
In honor of the 20th anniversary of "The Pick," Nike and the Oregon Ducks have partnered to re-create a modernized version of the iconic 1994 uniform design that the team wore during that glorious moment – a proper tribute to a turning point in the Ducks football history. This modern version of the classic 1994 Ducks uniform features the original number and name font from that year, as well as a modernized bold, iconic stripe to tie in the Classic Green jersey and University Gold pant and helmet. The "UO" logo is featured on the pant, and Duck logo highlights the sleeves.
This throwback design does not sacrifice performance as the Nike Mach Speed uniform is specifically designed for speed and maximum ventilation. Nike ChainMaille 2.0 mesh fabric is strategically placed at the neck grill for a lock- down fit, as well as the back of the neck, under the arm, and in an air channel between the chest panels for increased airflow.
Following this iconic turning point, Oregon went on to play in 17 bowl games over the next 19 years and have the best winning percentage in the Pac-12 (.731), claim shares of five conference championships and finish two years ranked second in the country.
Special-edition jerseys, hoodies, hats and T-shirts are available for purchase on nike.com and at the Oregon Ducks retail shop.