By Oregon Small Business Association
Health care and food services are leading the national post recession job trend, while manufacturing and construction have shed the most since the beginning of the recession.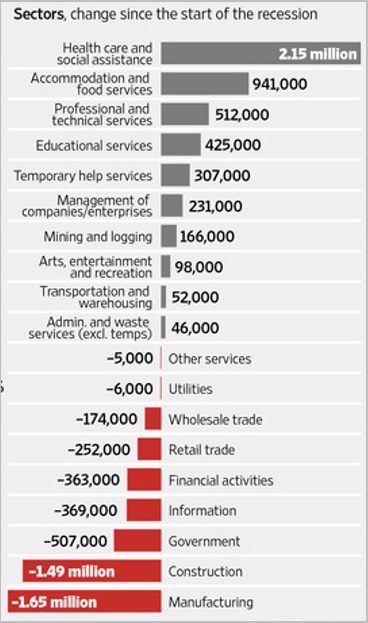 But the decline in manufacturing employment does not mean the decline of the industry itself. Instead the influence of technology is dramatically improving manufacturing output while reducing employment costs. See chart below.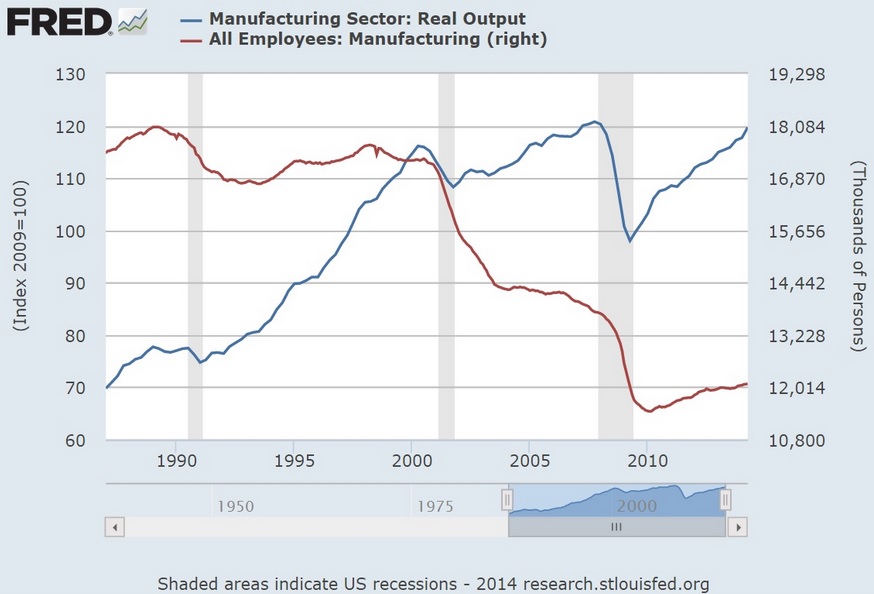 From MIT Technology Review,
To understand why manufacturing matters, we must lose some misconceptions. First, manufacturing no longer derives its importance primarily from employing large numbers of people. As software drives more of the manufacturing process, and automated machines and robots execute much of it, factories don't need as many workers. …

Manufacturing will make its most essential economic contribution as an incubator of innovation: the place where new ideas become new products. Thanks to advanced manufacturing technologies, that place can in theory be pretty much anywhere. Robots, software, and sensors work no matter what language is spoken around them. In practice, however, advanced manufacturers thrive best in an ecosystem of suppliers and experienced talent. For this reason, specialized manufacturing networks have taken hold in many regions. Among the success stories highlighted in this report are China's dominance as a manufacturer of consumer electronics, Germany's lead in precision tooling and robotics, the United States' strength in aerospace and car manufacturing, and its role in pushing forward important new manufacturing technologies. Innovative manufacturing today requires as its base that manufacturers and their suppliers build strong relationships and share knowledge extensively, says Mark Muro, a senior fellow at the Brookings Institution.