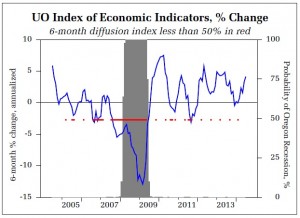 University of Oregon Regional Economic Indexes
By Tim Duy
Oregon Economic Forum
University of  Oregon
The Oregon Measure of Economic Activity rebounded from a drop in June. Highlights of the report include:
– The Oregon Measure of Economic Activity rose to 0.12 compared to a revised -0.55 the previous month. The three-month moving average, which smooths month-to-month volatility in the measure, is 0.09 where "zero" for this measure indicates the average growth rate over the 1990-present period. The near average reading in the measure reflects weaker employment data in many sectors in recent months.
– Bolstered by solid employment growth and hours worked, the manufacturing sector contributed positively to the measure.
– In contrast, the construction sector made a negative contribution due to job declines and a fairly tepid pace of new housing permits compared with previous expansions.
– Initial unemployment claims, labor force growth, and employment services jobs (largely temporary workers) all contributed positively while the unemployment rate made a neutral contribution. Weakness in many employment numbers is evident in the negative pressure on the service sector. As always, employment data are subject to possible revisions.
– The University of Oregon Index of Economic Indicators rose 0.5% in July. Initial unemployment claims fell to the lowest level since February of 2006. In addition, employment services jobs rebounded from a modest decline in May and June. Combined, these indicators suggest that the recent softness in overall employment numbers is most likely temporary.
– Residential building permits (smoothed) gained slightly; although permits have rebounded from a soft path in 2013, they remain below levels normally associated with economic expansions in Oregon. The Oregon weight distance tax, a measure of trucking activity rose while new orders for core manufacturing goods edged down after posting a strong gain in June.