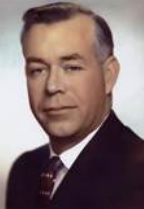 By Seneca Sawmill, Eugene
Aaron Jones, founder of Seneca Sawmill Company and a long-time Eugene resident, died on Monday, September 22, 2014. He was 92 years old.
Jones was a prominent industry leader for more than 50 years, guiding the family-owned sawmills in the West through bruising battles with special-interest groups and industry giants bent on driving smaller, family, independent mill owners out of business. He was also one of the earliest mill owners to embrace advances in sawing technology that employed high-strain bandmills and thin-kerf sawing for the purpose of increasing the amount of lumber recovered out of logs. His limitless curiosity and his passion for research and experimentation have resulted in his Seneca Mills in Lane County being considered by many to be the most technologically advanced mills in the world.
Born in Utopia, Texas, Aaron came to Oregon with two of his brothers when he was 10 years old to live and work on an uncle's dairy farm near Toledo. He had earlier lived with his brothers in an Arizona children's home–where they were placed by their father after their mother's murder, which Aaron witnessed when he was not yet five years old. His father paid their room and board until his auto repair shop burned down. Faced with the choice of having the children placed for adoption or taking them out of the home, his father opted to go to depression-era Oregon, where the boys were taken in by their uncle, who agreed to take them only as long as they could earn their keep, which meant up before dawn and working until dark, except for when they were in school.
Aaron was popular in school and did well academically. He was president of his class and one of only two 1940 Toledo High School graduates to go on to college. He and the other student went to visit the University of Oregon campus in Eugene where they met U. S. Senator, Wayne Morse, then Dean of the Law School. Morse would become a longtime-mentor and friend. Aaron helped finance and spoke at the Wayne Morse Plaza dedication in downtown Eugene in 2005.
Aaron's college education was interrupted by World War II. Although trained to command tanks, he was shipped to the South Pacific where he oversaw an Army supply depot on Luzon in the Philippine Islands. When the war was over, Aaron returned to the University of Oregon where he received his degree in Physical Education in 1947, but always insisted that he be recognized as part of the Class of 1944.
Family Man
After returning to Eugene, Aaron married Jean "Deanie" Bauman. Their family grew as three daughters were born. Becky, Kathy and Jody grew up around the sawmill that their father was building. Aaron's daughters are now co-owners of the business and serve on the Board of Directors.
After his first marriage ended, he married Marie Phillips in 1970 and welcomed her 12-year-old daughter, Suzanne, into his family. Eventually Suzanne, too, worked at the sawmill.
His family has grown to include six grandchildren and five great-grandchildren.
Businessman, Innovator
Aaron heard opportunity knock when the government declared new forest management plans that would open a portion of their forestlands to commercial harvest for the first time. Aaron worked out in the woods setting chokers, worked with his father-in-law, Laurence Bauman, in the family's planing mill, and sold lumber. Soon, he was familiar with all aspects of the business.
Aaron went out on his own and founded Seneca Sawmill Company in 1953, taking its name from the property he leased on Seneca Road. By the end of the first year, with 25 employees and a production of 18,000 board feet of lumber, the fledgling company had already outgrown that location. In 1954, after leasing a gang mill and planer from the late George Owen, Aaron moved the operation to its present location on Highway 99. In 1959, he purchased the operation from Owen. Over time, as the mill grew and Aaron needed to expand the mill, he purchased adjacent property–his first purchase being the Forcia mill.
Aaron was a problem-solver, and was never content to just do things the way they had always been done. He kept asking questions and exploring ideas to get more lumber out of each log with less waste and more efficiency. Over the years, Aaron was awarded over 25 patents in various sawmill technologies which were developed through the close teamwork and cooperation of management, operations and engineering.
With Whitey Howard by his side as his General Manager, Aaron built a company that was more like a family. Aaron's key people met with him in his office at the end of the day, and talked over how the mills were running and hashed out ways to make the mills better.
It was hard work building a sawmill, but there was fun, too. Once, when Aaron left for an extended period of time, he left Whitey in charge of setting up the new filing room in Mill A. When Aaron returned, he found that Whitey, a died-in-the-wool Beaver fan, had painted the room orange and black. With barely a reaction, Aaron left the room with the comment that, "At least half of this room had better be Oregon colors by tomorrow morning." The next morning Aaron discovered that's exactly what Whitey had done as Oregon's green and yellow shared the room with OSU's orange and black. Whitey was a good friend, and was always there for Aaron and his family.
Seeing a need for a reliable source of timber to run his mills, Aaron began purchasing his own timberland in 1989. Seneca Jones Timber Company was founded in 1992 to manage the growing land base, and today its 165,000-acre tree farm is a key supplier of the raw material for Seneca's sawmills.
The dedicated employees in the Seneca mills worked hard, often alongside Aaron each day in the early years. They appreciated knowing they could count on at least a 40-hour work week so they could support their own families. Aaron was fiercely loyal to his employees, and though he had many offers to sell the mill, he always chose to stay independent. He was very proud of the mill that he had built and loved to walk through and talk to his workers.
Although he invested untold sums of money in perfecting Seneca's proprietary sawing technologies, Aaron was always quick to credit his workforce for his extraordinary success. His loyalty to his employees was legendary. He once said, "The experience, ability and dedication of our people are second to none. They are Seneca's greatest asset."
Seneca now employs over 400 people in its four sawmills at two mill locations in Oregon, and production levels exceed 650 million board feet. Seneca Sustainable Energy was established in 2009 to utilize the mill byproducts and other woody biomass to produce renewable energy for the local community.
Industry Leader
As a testament to Aaron's leadership abilities, he was a member of the "Unholy Eleven" that represented the interests of the independent sawmills in the 1960s, during the green vs. dry lumber debates. He served on many industry-related associations, including: Founding Director and first President (1968- 1971) of the West Coast Lumber Inspection Bureau (successor to the West Coast Lumbermen's Association), as well as Chairman of the Executive Committee (1963-67), member of the Executive Committee (1955-56, 1959-60 and 1963-67), former member of the National American Lumber Standards Committee, former President and director of the Western Forest Industries Association, Director of the Mountain States Legal Foundation and former President and director of Western Resource Alliance. He was selected as an official United States delegate for meetings on log exports with the Japanese government in 1968.
In 1994, Aaron developed the "Friendly Swap," a concept to exchange land between the federal government and non-federal landowners to create land ownership patterns which would better support federal ecosystem management, as well as private property objectives. In 1996, Aaron was featured in Oregon Business Magazine as "one of the visionaries who will shape Oregon's future" with his "Friendly Swap."
Aaron was instrumental in the passage of Measures 7 and 37, which require compensation when government regulations reduce the value of a private landowner's property. In 2005, Aaron received the "Defender of Property Rights Award" from Oregonians in Action for his outstanding and dedicated efforts to protect private property rights. The award has since been named in his honor and is now called "The Aaron U. Jones Defender of Property Rights Award."
Aaron has been widely recognized and applauded by a variety of interest groups for a wide range of achievements. Included among them are:
•In 1964, he received the Western Wood Week's "Tall in the Forest Award" as "the man who had done more for the forest products industry than any single individual."
•In 1998, he received the Harry A. Merlo Award from the World Forestry Center for a "lifetime in development of sustainable forests and forest resources."
•In 2000, he was selected "Lumberman of the Year" by the Portland Wholesale Lumber Association.
•In 2001, he and his wife, Marie, received the University of Oregon's President's Medal in recognition of their ongoing support of the University.
Hunter and Outdoorsman
Hunting season was Aaron's favorite time of the year, and it was the only time you wouldn't find him hard at work at his desk or out in the mill. He loved to talk about the hunting trophies that hung on the walls at the office and at his cabin. In 2003, on his last hunt, Aaron got a trophy elk, a seven-point bull that is listed in the "Boone & Crockett Big Game All-Time Awards" book, along with his other trophies.
Jones was Chairman, President and Director of the Rocky Mountain Elk Foundation, and during the early years of the organization his generous contributions of time, prestige, contacts and money were crucial to the survival and growth of the organization. In 2002, he received the RMEF's highest accolade, their Wallace Pate Award, for his "longstanding and exemplary service to the cause of wildlife conservation in North America" presented by his long-time friend, Forest Service Chief, Jack Ward Thomas.
Aaron spent time with leaders of our country, including several presidents and many captains of industry, but one of the things he enjoyed most was putting on comfortable clothes and going out to the woods to see how the trees on his timber property were growing.
Although Aaron always gave the appearance of being nearly indestructible, he battled cancer for years, including deadly Liposarcoma, which doctors told him he would not survive. Specialists recommended that his right leg, from which the cancer was spreading, be removed. But he refused, opting instead for a combination of radiation, chemotherapy and what he called "my own rehabilitation program," which included an extended stay in Idaho's Salmon River country, with his long-time friend, Charlie Bass, where he had hunted and fished with friends over the years. "I beat cancer," he said with a satisfied smile in a 2006 interview.
Thoroughbred Owner
One of the great loves of Aaron's life was breeding and racing Thoroughbred horses. Aaron turned his love of horses into a successful second business, a natural choice for Jones, as he loved horses. He was an excellent horseman and enjoyed trips to Eastern Oregon rounding up wild horses with the Basque sheepherders, where he could be seen on horseback racing at breakneck speed. As the result of countless hours of research and study, Aaron and Marie became well known and respected in the world of horse breeding and racing.
Aaron and Marie Jones were the recipients of Eclipse Awards for Lemhi Gold, Champion Older Male in 1982, Tiffany Lass for Champion Three-Year-Old Filly in 1986, and Riboletta, as Older Female Horse of the Year in 2001 after winning five Grade 1 races in 2000.
In 1999, they watched their horse, Prime Timber, run to a fourth-place finish in the Kentucky Derby.
In 2004, two horses bred by Aaron and Marie won Breeders' Cup races. Speightstown won the Breeders' Cup Spring and was named champion sprinter, and Ashado won the Breeders' Cup Distaff and was named champion three-year-old filly. In 2005, Ashado earned champion older female honors and was inducted into the 2014 National Racing Hall of Fame.
In 2005, the Joneses received the P.A.B. Widener Award from the Kentucky Thoroughbred Owners and Breeders Association, honoring a lifetime of breeding excellence.
In 2010, Aaron and Marie added another accomplishment to their stable of awards when a horse they bred by the name of Drosselmeyer won the Belmont Stakes.
In 2011, Shackleford, sired by their stallion, Forestry, won the Preakness Stakes, following a fourth-place finish in the Kentucky Derby.
Aaron and Marie's success in breeding championship Thoroughbreds continues at Taylor Made Farm in Kentucky.
Philanthropist and Community Leader
Although he earned great wealth in two very competitive industries, Jones remained a modest and extraordinarily generous man, supporting causes in which he believed and giving away millions of dollars to charities and organizations. He never liked being in the spotlight for his philanthropy, and much of his generosity was anonymous.
Aaron enjoyed being a part of making things happen. He donated 13 acres of land in Blue River so McKenzie Community Track and Field could build a facility for the high school athletes and the community, now known as the Aaron & Marie Jones Community Field. At the ceremony where he turned over the deed to the property, Aaron told the gathering, "I've planted the seed, and now it's up to you to grow the tree." Aaron and Marie have continued their support of the facility with funding for an Olympicquality track and a building which houses concessions, restrooms, storage and meeting rooms.
Aaron also gave generously to causes including Festival of Trees, Volunteers in Medicine, Marist High School and Rocky Mountain Elk Foundation. He donated millions of dollars to the University of Oregon's athletic program and its business school. Aaron had a special place in his heart for anything that had to do with children.
The Legacy of Aaron Jones
A person is remembered for the way he lives his life. Aaron will be remembered for the way he treated people. If he believed in someone, there was no limit to his support of that person. If he believed that something was right, there was no limit to his support for that principle.
He loved babies, which probably came from living in a children's home at such a young age. There was little he could do, so they put him in charge of the babies. If he heard a baby cry in the office, he was down the hall like a shot to gather the baby in his arms.
Aaron Jones was an absolutely honest man. At the time of the Nixon administration, in the days of price controls where some lumber manufacturers would sell their lumber to a shill company of their own so it could be resold at a higher price, Aaron refused to do business that way. He said he "would not take a nickel that didn't belong to me."
He believed, and lived, the words, "To thine own self be true."
Aaron is survived by his beloved wife, Marie, three daughters by his first marriage, Rebecca Jones, Kathleen Jones-McCann and Jody Jones, and step-daughter, Suzanne Penegor; grandchildren Jennifer (Justin) Hamaker, Casey (Mike) Roscoe, Peter Gibney, Sean Gibney, Tiffany Pieper and Ashley Jones; great-grandchildren Morgan Houck, Rylan Houck, Parker Roscoe, Jacob Hamaker and Ava Roscoe; and sister, Maizelle Prucha. He was preceded in death by his mother, father and three brothers.
Aaron Jones will be greatly missed by his many friends and his Seneca family, but none will miss him more than his own family. It's up to them now to carry on his legacy, which will live on in everything he loved, created, invented and believed in.
A Celebration of Life honoring Aaron Jones will be held at Matthew Knight Arena in Eugene on Wednesday, October 1, 2014, at 11:00 am.
In lieu of flowers, the family suggests contributions to University of Oregon Athletic Fund, McKenzie Track & Field or Volunteers in Medicine.