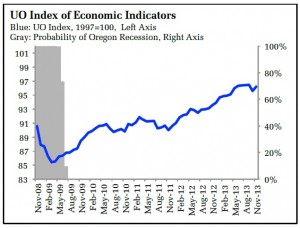 University of Oregon Regional Economic Indexes
By Tim Duy
Oregon Economic Forum
University of  Oregon
The Oregon economy continued to post moderate gains in November. Highlights of the report include:
– The Oregon Measure of Economic Activity rose to 0.39 in November, up from a revised -0.02 the previous month. The three-month moving average, which smooths month-to-month volatility in the measure, is -0.06 where "zero" for this measure indicates the average growth rate over the 1990-present period.
– Similar to recent months, manufacturing activity contributed positively to the index, while the impact of construction activity was effectively neutral. Employment measures in the construction sector contributed positively to the measure. The household sector had a neutral effect, while employment in the trade, transportation, and utilities employment component supported a positive contribution from the services sector.
– The University of Oregon Index of Economic Indicators™ gained 0.6 percent in November; the UO Index has risen in eleven of the past twelve months.
– Initial unemployment claims dropped sharply and are now in a range consistent with strong job growth in Oregon, suggesting that the pace of hiring may accelerate in the months ahead. Residential building permits (smoothed) where unchanged from October; permitting activity leveled-out around 1,100 permits per month after rising to the 1,300 range earlier in the year.
– Core manufacturing (nondefense, nonaircraft capital goods) new orders rebounded, although have remained roughly unchanged since January 2013. Weekly hours worked in the Oregon manufacturing sector continue to hover near recent highs. The weight distance tax, a measure of trucking activity, rose to its highest level since January 2008. The improvement in the measure during 2013 is consistent with moderate gains in activity.
Dan Mogck, Senior Vice President of Business Banking, KeyBank, adds "We are seeing a moderate increase in demand for new loans as the firmer economy is building confidence to boost capacity."