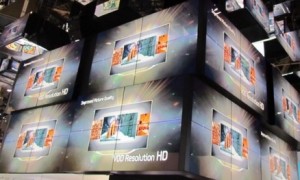 Michael Hendrix
Director, Research & Emerging Issues
U.S. Chamber of Commerce Foundation
What will the next big thing be? Will it be Samsung's bendable TV; Intel's smart earbuds that track speed, location, and heart rate; or the TouchJet PTE that transforms a blank wall into an interactive tablet? Or will the biggest technology from this year's show be in the automotive industry, such as Audi's 90 mpg hybrid car with laser headlight capacity of 1/3 of a mile or Formula E's electric racing car?
Here are five of the 20,000 products introduced at this year's show that particularly stood out:

1. AT&T and GM's 4G LTE in cars: There will be Wi-Fi connectivity and access to vehicle-specific apps right in the car's dashboard in select Chevrolet 2015 models; other auto manufacturers are close behind GM in adding this feature to their models.
2. Sugar Lab's 3D printer: This device makes custom cakes that are entirely edible and don't have to be baked.
3. Sony's web-based TV service: With live-streamed, pay-TV online included on Sony TVs and PlayStatione game consoles, this service could be a disruptive opportunity in the market for cable and satellite TV providers.
4. Ford's solar-powered car: We've seen electric and hybrid cars, but Ford's C-MAX Solar Energy concept car is something different. Its rooftop solar panels glean enough of the sun's energy to effectively make it a mobile recharging station, enabling the car to run for short trips without any other power source. For longer rides, the car's conventional engine will extend the C-MAX's range to 620 miles.
5. Clearview's invisible speaker: The days of big, bulky speakers may be numbered with the introduction of this clear, wireless, paper-thin speaker.
During his keynote address, Cisco's Chairman and CEO, John Chambers, specifically predicted 2014 will be a pivotal year for the Internet of Things. Everything—people, processes, data, and objects—will soon be connected. He said, "The Internet of Things will be five to ten times more impactful in the next decade than the entire internet has been to date."
The world will for sure see big advances in technology this year.