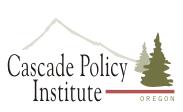 By Steve Buckstein
Cascade Policy Institute
It was wonderful to hear that Phil and Penny Knight recently offered a $500 million cancer challenge to OHSU if the public would match their donation. But now OHSU wants taxpayers to come up with $200 million of the match through a building bond.
Portland Business Journal reports that OHSU President Joe Robertson will ask legislators to provide $200 million in bonding authority during February's legislative session. The money would "count" toward the Knights' matching gift challenge and fund construction of two new buildings at the South Waterfront for the Knight Cancer Center.
Philanthropy is to be admired, but forcing all taxpayers to help match a private gift challenge is a move in the wrong direction. Forced charity isn't charity…it's just force. We might even call it "crony philanthropy."
Let's hope that the Knights clarify their challenge to include only voluntary matching donations from willing donors.