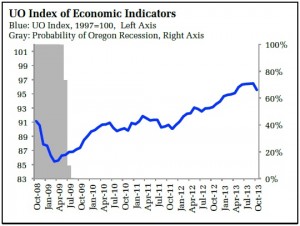 University of Oregon Regional Economic Indexes
By Tim Duy
Oregon Economic Forum
University of  Oregon
The Oregon economy continues to experience moderate growth. Highlights of the report include:
The Oregon Measure of Economic Activity stood at -0.20 in October, effectively unchanged from the previous month. The three-month moving average, which smooths month-to-month volatility in the measure, is -0.07 where "zero" for this measure indicates the average growth rate over the 1990-present period. In short, Oregon is growing near its long-term average pace.
– Manufacturing activity contributed positively to the index, while the impact of construction activity was effectively neutral. Residential permits made a slight negative contribution, but this was offset by a boost from the employment measure. As the sector continues to improve, additional hiring should follow.
– The University of Oregon Index of Economic Indicators™ slipped 0.9 percent in October, the first decline since September of last year. Initial unemployment claims were effectively unchanged while employment services payrolls slipped during the month.
Residential building permits (smoothed) where unchanged from September but are now slightly below the 1,200-1,300 range of recent months; higher mortgage rates likely contributed to some softening in the sector. Core manufacturing (nondefense, nonaircraft capital goods) orders and the Oregon weight-distance tax, a measure of trucking activity both fell. Consumer sentiment slipped in the midst of uncertainty surrounding the temporary shutdown the Federal government.
Occasional declines in the UO Index are not uncommon during economic expansions. Overall, the two indicators point to sustained expansion in Oregon at an average pace of activity. The recovery will likely continue in 2014 as lessening fiscal drag and supportive monetary policy contribute to moderately stronger growth next year.
We apologize for the delay in releasing this report; the fiscal shutdown resulted in a delay in the release of critical data that feed into these measures of activity.
Tim Duy
Professor of Practice
Sr. Director, Oregon Economic Forum
Dept. of Economics
University of Oregon