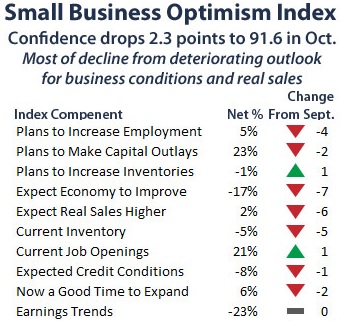 By Jan Meekcoms
Oregon NFIB
A particularly bad component in one of America's leading economic barometers released today is raising a serious policy question: Can Oregon do enough for its small-business owners to overcome the economic ship of state left rudderless in Washington D.C.?
As it does every month, the National Federation of Independent Business (NFIB), America's largest and oldest small-business association, releases its Index of Small Business Optimism, which measures the pulse of the nation's largest employer group—Main Street entrepreneurs.
"What the Small Business Optimism Index shows is something we've seen in previous polls as well: Uncertainty is strangling the nation's economy," said Jan Meekcoms, Oregon state director for NFIB.
"Our insurance exchange, Cover Oregon, has further exacerbated the uncertainty created on the federal front. Oregon elected to create its own exchange, which has yet to approve a single online application. There is a loss of faith and sentiment that government is good at regulating and taxing but fails in supporting the needs of small business."
Added William Dunkelberg, NFIB's chief economist in a national news release: "Small employers are not fooled by headlines announcing record high stock market indices; everyday they live the economic realities of overregulation, increased taxes, weak sales and a government without any director or plan for the future."
As regularly scheduled each year, NFIB will be sending out its annual ballot on state issues this week, and it's no coincidence, said Meekcoms, that one of the four questions is aimed at giving Oregon policymakers some guidance on the general uncertainty facing small-business owners. "We'll be asking our members if small-business impact statements should be required for each new bill or regulation that could potentially affect them."
The NFIB Research Foundation has collected Small Business Economic Trends data with quarterly surveys since 1974 and monthly surveys since 1986. Survey respondents are drawn from NFIB's membership. The report is released on the second Tuesday of each month. For almost 40 years, NFIB's Index of Small Business Optimism has been one of the nation's bellwether economic barometers, used by Federal Reserve chairmen, Congress, and presidential administrations. Small business is no small matter, because Main Street enterprises employ the majority of working Americans and generate most new jobs—not big businesses, and certainly not big governments or labor unions.
Click here for the full report.