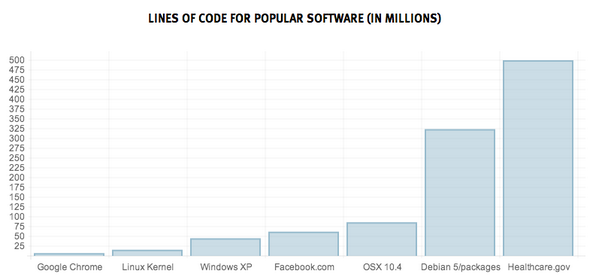 At least $300 million has been spent on HealthCare.gov, the federally-run health insurance exchange, and three weeks after launch it still doesn't work. It was supposed to be the Amazon or Kayak of health insurance but has been a riddled with glitches so far:
No private sector company would have messed up a little-tested product launch this badly, and if it had, the CEO wouldn't have told customers to call a 1-800 number that directs you to go to the website—a Catch-22 for the 21st Century–like President Obama did on Monday.
Now, the Obama administration wants the private sector, specifically Verizon, to come to the rescue according to USA Today:
An informed source in the telecommunications industry said Verizon's Enterprise Solutions division has been asked by the Department of Health and Human Services to improve the performance of the HealthCare.gov site, which is a key component of the Affordable Care Act. The source spoke on condition of anonymity because the announcement had not been made official.
VentureBeat notes the daunting challenge that Verizon or any team of tech whizzes parachuting in faces:
It's a huge project — the New York Times quotes one specialist who said that 5 million lines of code would need to be rewritten before the website can function properly.

"That's the problem here. Even if the government recruits talented engineers from consumer tech companies, whoever builds this site has to take care of it," said [Venrock Capital's Bob] Kocher. "I don't see this 'best and brightest' idea working in practice."
To put this into perspective, web developer Alex Marchant compares the lines of code in HealthCare.gov to other popular software:
[UPDATE: Programmer David Auerbach, writing at Slate, challenges the idea that X million lines of code means much without more context.]
HealthCare.gov is a stunning example of the shortcomings of the Patient Protection and Affordable Care Act. It forced health insurance options into simple, one-size-fits-all boxes and expected them to be delivered to consumers efficiently in a highly-politicized environment where innovation isn't the top priority. 
The government is good at some things, but building and operating insurance marketplaces isn't one of them. That's best left to the private sector and our free enterprise system.
UPDATE: House Oversight Committee Chairman Darrel Issa (R-CA) wants to know if the administration asked Google, Microsoft, Oracle, and Expedia to help in rescuing Healthcare.gov:
The Republican chairman of a key congressional oversight committee has asked Google, Microsoft and three other companies to provide details on their possible involvement in a "tech surge" aimed at fixing a website implementing President Obama's signature healthcare law.

Darrell Issa, chairman of the House Oversight and Government Reform Committee, made the request in a letter to Google, Microsoft, Verizon Enterprise Solutions, Oracle and Expedia, committee spokeswoman Caitlin Carroll said.

Issa, a relentless critic of the Obama administration, wants information on contacts the companies may have had with the White House about the Healthcare.gov website by Friday. Carroll called it the first step of a "rolling inquiry" that could include other companies.

The five named companies were selected because of press reports about their potential involvement in fixing the website, Carroll said.