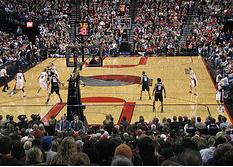 TRAIL BLAZERS TRANSITION TO FOX SPORTS RADIO 620
Team stays with Clear Channel Media + Entertainment,moves down the hall for new radio flagship
Portland Trail Blazer Release
The Portland Trail Blazers and Clear Channel Media + Entertainment have entered into an agreement to air all preseason and regular season games on Fox Sports Radio 620 (KPOJ AM) during the 2013-14 season, it was announced by the team today.
Trail Blazers Radio Announcers Brian Wheeler and Antonio Harvey will call the first broadcast on the new radio flagship when the Trail Blazers open the 2013-14 preseason against the Los Angeles Clippers at the Moda Center on Monday, Oct. 7.
"We are excited about the opportunity to broadcast our games on a station the offers an all-sports format," said Trail Blazers President & CEO Chris McGowan. "This transition also allows us to avoid any preemption throughout the course of the season."
Fox Sports Radio 620 will also broadcast Trail Blazers Courtside, the team's weekly talk show hosted by Wheeler, Harvey and television broadcasters Mike Barrett and Mike Rice, beginning Monday, Sept. 9.
"We're thrilled to continue our partnership and build "Blazer Mania" in Portland," said Clear Channel Media + Entertainment Market President Robert Dove. "For all things Trail Blazers you only need Fox Sports Radio 620."
Radio affiliates outside of the Portland area will not be affected.