By Oregon Small Business Association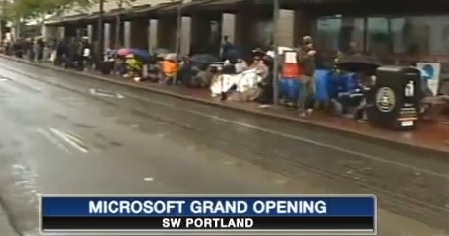 Microsoft Opened a new store in Portland this summer with a big splash and broader agenda. Microsoft is planning to roll-out 500 stores across the county — many specifically targeted near Best Buy stores according to Reuters News Service.
The grand opening of the Microsoft Store in downtown Portland put on a big musical draw by offering people free concert tickets. It drew a large crowd of music lovers as well as tech enthusiasts. Nearly 300 had camped out in the rain. The first 200 got a wristband for a back-stage meet-and-greet with the band Weezer and the first 1,000 got free tickets to their concert at Pioneer Square on June 21st. American Idol winner Kelly Clarkson has also teamed up with Microsoft by offering free concerts to promote their openings around the country.
The Microsoft roll-out follows a pattern by the successful Apple stores across the nation.
Photo: From KPTV story here.