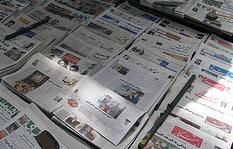 Business News Note,
Oregon's "Pay it Forward, Pay it Back," project to allow students to pay for college using a 3% salary diversion is gaining some national headlines, see Business Insider, ABC News, CNN and Wall Street Journal.  The bill has passed both the House and Senate and is awaiting Governor Kitzhaber's signature.   Lawmakers in California, Washington, New York, Vermont and Pennsylvania are considering similar plans.  
Wall Street Journal — As lawmakers in Washington remain at loggerheads over the student-debt crisis, Oregon's legislature is moving ahead with a plan to enable students to attend state schools with no money down. In return, under one proposal, the students would agree to pay into a special fund 3% of their salaries annually for 24 years.The plan, called "Pay it Forward, Pay it Back," would create a fund that students would draw from and eventually pay into—potentially bypassing traditional education lenders and the interest rates they charge. The state would likely borrow for the fund's seed money, which could exceed $9 billion, but the program's designers intend it to become self-sustaining.

Oregon's Senate on Monday unanimously passed a bill, already approved by the House, that creates a study committee charged with developing a pilot program for Pay it Forward, Pay it Back. The legislature will decide in 2015 whether to implement the pilot.

"We have to get way out of the box if we're going to get serious about getting young people into college and out of college without burdening them with a lifetime of debt," said Mark Hass, a Democratic state senator from Beaverton, Ore., who leads the chamber's education committee and who championed the bill. The legislation was supported by the Working Families Party. Continue
The national magazine, Parade, did an online survey and found the respondents evenly mixed over the idea.