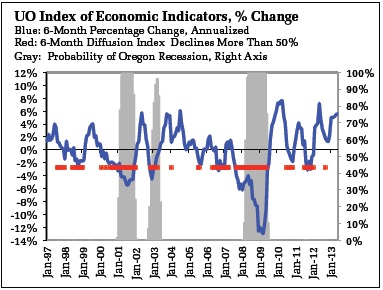 University of Oregon Regional Economic Indexes
By Tim Duy
Oregon Economic Forum
University of  Oregon
Oregon economic indicators pointed toward continued growth in May. Highlights of the report include:
• Residential building permits (smoothed) continued to increase and now stands at its highest level since December of 2007. Core manufacturing (nondefense, nonaircraft capital goods) orders, the Oregon weight-distance tax (a measure of trucking activity), and consumer sentiment all improved in May.
• Together, the two indicators point to sustained expansion in Oregon at an average to somewhat above average pace of activity.
• The Oregon Measure of Economic Activity rose to 0.32 in May from a revised 0.22 the previous month. The three-month moving average, which smooths month-to-month volatility in the measure, fell to 0.16 where "zero" for this measure indicates the average growth rate over the 1990-present period.
• The manufacturing, construction, and household sectors contributed positively to the measure, while the services sector had an essentially neutral impact. Improvements in the housing market can be seen in the only slight drag from residential permits (indicating the number of units permitted is approaching more normal levels) and the positive contribution of construction jobs
• The University of Oregon Index of Economic Indicators™ rose 0.8 percent in May; the UO Index has been rising or flat in each of the last 8 consecutive months. All index components have improved over the past six months.
• Initial unemployment claims rose somewhat, but remain in a range consistent with ongoing job growth. Employment services payrolls, largely temporary employees, also rose during the month.