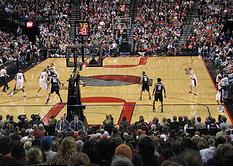 LONGTIME "HERITAGE PARTNERS" TIP-OFF RENEWALS OF TRAIL BLAZERS SPONSORSHIP AGREEMENTS FOR 2013-14 SEASON
Airefco, Spirit Mountain Casino, Standard TV & Appliance Sign Multi-Year Deals
By Portland Trail Blazers Communications Dept.,
Longevity and loyalty have special meaning for Portland Trail Blazers fans and that same spirit carries over with corporate sponsors. Three long-standing "Heritage Partners" with the Trail Blazers – Airefco, Inc., Spirit Mountain Casino and Standard TV & Appliance – have signed new sponsorship marketing agreements to continue their relationships with the team beginning with the 2013-14 season. Financial terms of deals were not disclosed, but each agreement is for two years.
"Heritage Partners" are Trail Blazers sponsors holding tenure with the team greater than five years. With these latest renewals, Airefco will enter its 22nd season in partnership of the Trail Blazers; Spirit Mountain Casino marks its 19th year; and Standard TV & Appliance comes aboard for its 15th year.
"We proudly welcome Airefco, Spirit Mountain Casino and Standard TV & Appliance back as our first Heritage Partner renewals for the 2013-14 season," said Trail Blazers President and CEO Chris McGowan. "These companies are powerful Pacific Northwest brands that the Trail Blazers are pleased to partner with."
Sponsorship agreements with the Trail Blazers carry a range of customized activations around the Rose Garden Arena, Rose Quarter and other platforms. Benefits include signage, digital displays or other visible brand advertising; television and radio broadcast integration, hospitality opportunities, tickets, special event access and other sponsor privileges.
"We are thrilled to continue our partnership with the Trail Blazers. Being a Heritage Partner is important. It's been a long, mutually beneficial relationship that we value." said JK Hussa, owner of Airefco Inc.
"Spirit Mountain is proud to continue its sponsorship with the Portland Trail Blazers. Our long standing partnership is reflective of our common values and love for the Portland community, said Randy Dugger, General Manager for Spirit Mountain Casino. "We look forward to another great season with Oregon's premier professional sports team!"
"Standard, like the Blazers, born and raised in Portland, are the home team providing an excellent experience. We are proud to be a Blazers sponsor and part of Portland's history." said Bill Gander, Owner of Standard TV and Appliance.