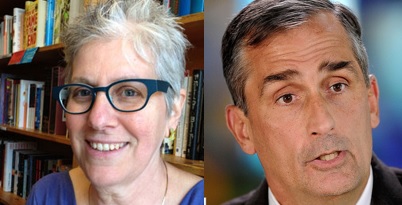 By Oregon Small Business Association
Powell's Books
Powell's Books recently announced the appointment of Miriam Sontz as CEO. Sontz takes over this position as Emily Powell remains the owner. Sontz is a 28-year employee, most recently serving as chief operating officer. As CEO, she will direct ongoing business operations and strategic planning.
Although digital readers and tablet computers threaten to squeeze the sale of printed and bound-books, Sontz appears ready to meet the challenge. In a news release to KGW, she said, "I look forward to steering Powell's Books forward through our ever-changing book industry. We are well-positioned to continue efficiencies around operations so we can focus on our customers. Highlighting and expanding the unique experience people have when shopping at Powell's is our top priority."
Powell's Books was founded by Walter Powell in 1971 and later managed by Emily's father Michael. She became CEO in 2010. The company states in a release, Emily Powell "will step fully into her role as the owner of Powell's Books, focusing on the stewardship of Powell's long-term future, health, and vitality."
Intel
Brian Krzanich (pronounced "ker-SAN-itch") takes over as CEO of Intel as Paul Otellini steps down. Otellini has been with the company for 38 years, the last eight as CEO.
Krzanich, 52, joined the chipmaker in 1982 straight out of college. He has held positions as a process engineer, a manufacturing manager, a plant manager, the head of assembly testing and most recently as chief operating officer.
Intel, which employs 17,000 Oregonians, dominates the PC market. However, those sales are declining as smartphones and tablets become more popular. IDC reports a 14% drop in PC sales for the first quarter compared to the same period last year. But the company's board believes Krzanich is the right person to help turn things around.
"The board of directors is delighted that Krzanich will lead Intel as we define and invent the next generation of technology that will shape the future of computing," said Andy Bryant, chairman of Intel, in a prepared statement.