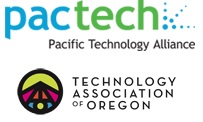 The Mobile Silicon Forest: In Focus
With Congressman Greg Walden & Jonathan Spalter
Friday, May 10th, 11:00am – 1:00pm
Embassy Suites, Downtown Portland, 329 SW Pine St.
Hosted Luncheon*
Consumers are gravitating to mobile technology, and Oregon is a national leader in the new exploding application economy, recently ranked #4 nationally in the emerging application economy.
Join the Technology Association of Oregon and the Pacific Technology Alliance as we welcome U.S. Rep. Greg Walden (OR-2) and Jonathan Spalter, Chairman of Mobile Future, to discuss how our Congressional leaders are responding to the surge of consumer demand for wireless connections and to learn what Oregon can do to maintain its edge in the mobile space.
Rep. Greg Walden (OR-2)
Chairman of House Subcommittee on Communications and Technology
In his role as Chairman, Rep. Walden has worked to pass legislation to grow American jobs by expanding access to wireless broadband, spur new U.S. technology and innovation, and protect the Internet from government control.
Jonathan Spalter
Chairman of Mobile Future
Jonathan Spalter has a long track record of building innovative technology, mobile, Internet, and research companies in the U.S., Asia/Pacific, and Europe. As Chairman of Mobile Future, he brings decades of experience in the technology and media sector ranging from chief information officer at the U.S. Information Agency to senior vice president of public policy and external affairs at Vivendi Universal.
AGENDA:
11:00 am – Doors Open
11:30 am – Networking Reception
12:00 pm – Welcome
12:10 pm – Jonathan Spalter
12:20 pm – Rep. Greg Walden
12:45 pm – Q & A
1:00 pm – Drawing for Door Prize