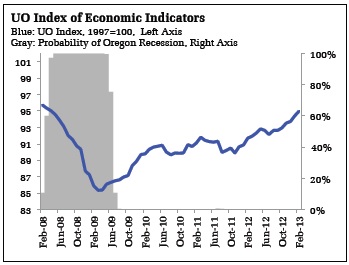 University of Oregon Regional Economic Indexes
By Tim Duy
Oregon Economic Forum
University of  Oregon
Here is the University of Oregon State of Oregon Economic Indicators for February 2013.  The release date is April 4, 2013.  Special thanks to our sponsor, KeyBank.
Oregon economic indicators improved further in February 2013. Highlights of the report include:
The Oregon Measure of Economic Activity rose to 0.79, compared to 0.49 in January.  A solid gain in construction employment helped drive the improvement.
It is often the case, however, that such unusual gains are revised downward in subsequent reports. The three-month moving average, which smooths such month-to-month volatility, gained to 0.35 where "zero" for this measure indicates the average growth rate over the 1990-present period. The Oregon economy is growing near to somewhat above its average rate since 1990.
The University of Oregon Index of Economic Indicators™ gained 0.6 percent in February. Initial unemployment claims fell while employment services payrolls edged gained; both suggest ongoing improvement in the labor market.
 The housing market continues to improve as residential building permits (smoothed with a five month-moving average) exceeded 1,100 for the first time since July 2008.
Nondefense, nonaircraft capital orders slipped while the Oregon weight-distance tax, a measure of trucking activity, improved. Hours worked in manufacturing posted another gain while interest rate spread widened as market participants bid up long interest rates in response to an improved economic outlook.
The two indexes point toward continued growth in Oregon, although the pace of activity may ease in response to tighter fiscal policy (higher taxes and spending cuts) initiated in the first quarter of this year.