NIKE has pulled their Boston massacre T-shirts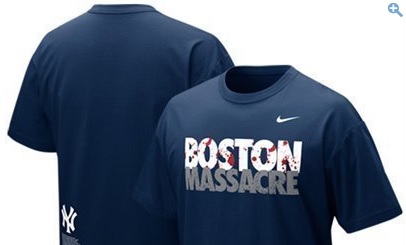 USA Today reports that NIKE has pulled their "Boston Massacre" T-Shirts from their factory outlet stores in light of the unexpected Boston bombings that occurred last week. The term is used to represent a New York Boston rivalry (as you can see the NY Yankee logo on the shirt side in the photo on the right).
The shirt recall is just a blip on the radar for Nike which reported that revenues from continuing operations were up 9 percent to $6.2 billion in the recent quarter.
In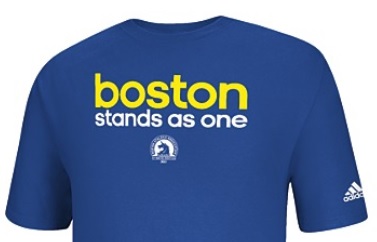 similar news, Adidas released a fundraising shirt for the Boston victims that reads "Boston stands as one".  These fundraising shirt sold out in one day.   Adidas raised more than one million dollars for The One Fund Boston effort.   The shirts are priced at $26.20 to equal the distance of the marathon's 26.2 miles.
Adidas has been a sponsor of the Boston marathon for over 25 years.
Oregon's most known marathon, The Portland Marathon (set for October), decided to take on the tragedy and fears head on by  dedicating their Marathon to the Boston one.  "We will dedicate our Portland Marathon in October to the memory of all those impacted by this tragic Boston event.  And we will provide all our finishers with a token that carries forward the remembrance of those who suffered in Boston."     Their motto is "Speak with your feet: Run 4 Boston".  See image below.