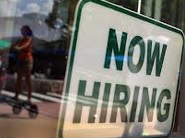 Who's Hiring in Oregon
By Oregon Small Business Association
• Salesforce.com plans to hire hundreds of employees when they open their new office in Hillsboro this summer. The leading cloud computing and customer relationship management software company chose the location to recruit from Pacific Northwest talent in such areas as IT support, finance, legal support, customer service and human resources. Salesforce.com, with approximately 10,000 employees worldwide was named by Forbes Magazine as the World's Most Innovative Company in both 2011 and 2012 and has been on FORTUNE Magazine's "100 Best Companies to Work For" list for five consecutive years. The new office will be in the 100,000-square-foot building formerly occupied by Synopsys.
• Columbia Helicopters, located in Aurora, makes big helicopter purchase to Swedish Military. Columbia has acquired ten Vertol 107-IIs from the Swedish defense ministry. This will increase the company's fleet of heavy-lift aircraft, which now includes 14 active 107-IIs and six Columbia 234 Chinooks. Columbia Helicopters is the world's only commercial operator of the 107-IIs. The newly acquired aircraft will be taken down to sheet metal, the seats removed and the helicopters refurbished, an 18-month process. The aircraft are used in logging operations, firefighting, construction projects and petroleum exploration projects. Currently, four 107-IIs are in Afghanistan supporting military operations with heavy-lift capabilities.
• GFP Emergency Services has created 90 jobs in Prineville to revamp shipping containers for use as temporary housing, medical and other facilities. The city expects a possible 50 additional jobs with ICP Northwest, a Madras-based company, which also plans to open a container-conversion business. Along with jobs added by Apple and Facebook data centers, the new employment opportunities are welcome news to Crook County, which had the highest monthly unemployment numbers out of Oregon's 36 counties for four years until October.
• Roughly 2/3rds of the largest commercial real estate firms have indicated that they plan to hire new employees in the upcoming months according to the Portland Business Journal. That is twenty-six of the 38 real estate companies.
• Oregon's first industrial-scale geothermal plant, the Neal Hot Springs plant in Malheur County, is now in operation and is expected to have twenty long-term jobs. Several hundred people worked on construction of the plant, located west of Vale and upstream of the Bully Creek Reservoir. The plant, which generates 28 megawatts of electricity, can power 25,000 to 28,000 homes. Idaho Power buys the electricity.