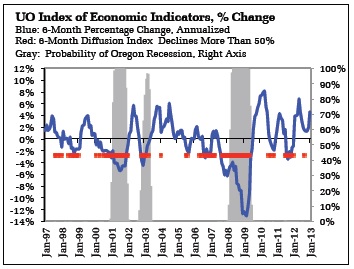 University of Oregon Regional Economic Indexes
By Tim Duy
Oregon Economic Forum
University of  Oregon
Oregon economic indicators continued to improve in the first month of 2013.
Highlights of the report include:
• The Oregon Measure of Economic Activity rose to 0.49, compared to a revised -0.23 in in December. The gain was driven in part by a large contribution from the financial services employment component. Often, such unusual gains are revised downward in subsequent reports. The three-month moving average, which smooths month-to-month volatility, improved to -0.14 where "zero" for this measure indicates the average growth rate over the 1990-present period.
• Both the manufacturing and services sectors contributed positively to the report. Both the manufacturing employment and hours worked components made solid contributions. The declining labor force and the still high unemployment rate continue to weigh on the household sector. Overall, the Oregon economy is growing near its average rate since 1990.
• The University of Oregon Index of Economic Indicators™ gained 0.7 percent in January, a fourth consecutive increase. Initial unemployment claims were largely unchanged while employment services payrolls edged upward. Residential building permits (smoothed with a five month-moving average) reversed December's decline and continue to hover just below the 1,000.
• Nondefense, nonaircraft capital orders rose, extending a string of increases that began in October, a welcome improvement that reversed the sudden and sharp decline earlier in 2012. The interest rate spread rose to its highest level since last April as the economic outlook improved.
• The two indexes point toward continued growth in Oregon; the patterns of recent improvement suggest the economy will improve further as 2013 progresses. National growth is expected to remain supportive.
Note: Both measures incorporated revised estimate of employment data. The inclusion of the revised data did not have a significant impact on the overall measures of activity.