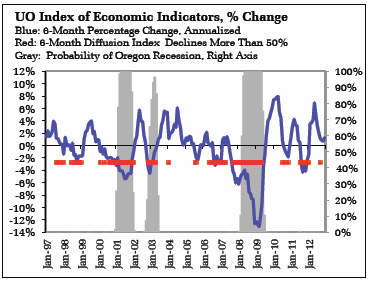 University of Oregon Regional Economic Indexes
By Tim Duy
Oregon Economic Forum
University of  Oregon
Highlights of the report include:
• Oregon economic indicators improved in December of 2012. The Oregon Measure of Economic Activity rose to -0.22, compared to a revised -0.76 in November. The three-month moving average improved to -0.46, where "zero" for this measure indicates the average growth rate over the 1990-present period.
• Construction was a drag as residential building permits retraced some recent gains (note that the level of activity in residential housing remains below normal). The household sector also weighed on the overall numbers, with weakness evident in consumer sentiment, a declining labor force, and the still high unemployment rate.
• The University of Oregon Index of Economic Indicators™ edged up 0.1 percent in November, a third consecutive increase. Similar to November, initial unemployment claims and employment services payrolls were largely unchanged.
• Residential building permits (smoothed with a five month-moving average) slipped, but continue to hover at near 1,000. Nondefense, nonaircraft capital orders gained again, suggesting that manufacturing growth will remain in tact in the coming months. The interest rate spread rose as financial market participants became more confident in the economic outlook.
• Combined, the two indexes indicate that Oregon is likely to continue to grow at a rate close to average. National growth remains a supportive force.
• Near term risks include the possibility of excessive fiscal contraction and export softness from weak overseas trading partners, particularly Europe. Still, the housing market continues to improve, and this sector tends to be a leading indicator of overall activity. While fiscal policy will weigh on growth this year, it is most likely that the current economic expansion will continue at the on average subdued yet steady pace of recent quarters, both nationally and in Oregon.