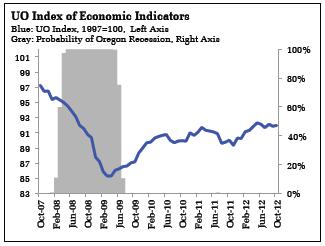 University of Oregon Regional Economic Indexes
By Tim Duy
Oregon Economic Forum
University of  Oregon
Oregon economic indicators improved modestly in October. Highlights of the report include:
• The Oregon Measure of Economic Activity rose to -0.58 from an upwardly revised -0.80 in September. The three-month moving average also rose to -0.44, where "zero" for this measure indicates the average growth rate over the 1990-present period).
• The most notable drags on the measure were the unemployment rate, which remains elevated, and slowing leisure and hospitality employment growth. Construction employment contributed positively to the measure, offsetting a decline the previous month. Hours worked in manufacturing also contributed positively, in contrast to recent softness in national measures of manufacturing activity. Overall, the Oregon economy is growing near to somewhat below its average rate since 1990.
• The University of Oregon Index of Economic Indicators rose 0.2 percent in October, largely reversing a decline the previous month. Initial unemployment claims fell, signaling a slower pace of layoffs. Residential building permits (smoothed with a five month-moving average) gained again, holding over 1,000 for the second consecutive month in response to strengthening demand for new housing.
• Growing concern about the path of fiscal policy in 2013 is joining weak overseas economies to soften the demand for capital purchases in the final months of 2012. Households, however, are less fazed by the prospects for fiscal policy; consumer sentiment (smoothed with a five month-moving average) rose again in October. The preliminary December consumer sentiment reading, however, fell, possibly reflecting growing fiscal cliff concerns.
• The combination of the two indexes suggests that Oregon's economy will continue to expand as we head into 2013 albeit at a rate below that experienced in past periods of recovery. The US economy is following a similar path. The support provided by improvement in the housing sector is being offset by international weakness and actual and expected tighter fiscal policy. The possibility of sharply tighter fiscal policy in 2013 remains a downside risk to the outlook.