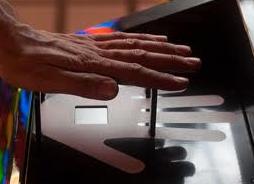 By Oregon Small Business Association,
Palm Scans Replacing ATM's?
 Biometric scans may become more available as replacements for ATM's, PIN's and other personal ID while increasing security and speeding up check-ins and online transactions.
Biometric Technology
Biometric scanners use personal characteristics and traits to identify a person. Palm prints, used widely by Japanese ATM's and Australian police, show a relief map of the palm. New palm print technology tracks veins and bone structure. Iris scans, although expensive, are considered among the most accurate and acceptable to customers. Facial recognition, which scans the iris and measures distance between the eyes and between the nose and mouth, is being used on some smartphones and laptops. Reuters reported Intel has developed a prototype tablet and software which recognizes the unique pattern of veins on a person's palm. The tablet will then securely communicate the user's identity to online accounts.
Banks, Business and Travel
"Biometrics has a real opportunity to take off," Alphonse Pascual, a security, risk and fraud analyst for Javelin Strategy & Research told MarketWatch. "When they are done well, they are a great solution (to secure identification). Unfortunately, there are still limitations to it."
Drawbacks include privacy issues and accuracy. But a growing number of businesses, hospitals and financial institutions are investing in the technology. Disney World has employed finger scans at entrances for years.  CLEAR biometrics claims a speedy 5-minute airport identity screening process using iris and fingerprint identification currently in use at five airports.
Customers are growing more comfortable with biometric identification. In fact, a Javelin report on banking authentication claimed that "business customers crave biometrics." Seven in 10 banking customers told Javelin researchers they were interested in biometrics with 35% saying they preferred using fingerprints. The researchers found technology-driven people liked card issuers and banks that embraced biometrics.
FBI
The FBI is completing a $1 Billion project called Next Generation Identification which will employ a multimodal system in the largest worldwide person-centric biometric database.
Hospitals
Time Health and Family reports New York University's Langone Medical Center uses palm scans for expedited intake of patients who have their information and palm scan, in numeric code, on file. It makes registration quicker, avoids misidentification and helps when a patient is unconscious. An article in Becker's Hospital Review reports the advantages of iris scans to help solve patient ID problems.
Privacy Concerns
However, there are objections. The Baltimore Sun reports the use of the PalmSecure system in Maryland schools to pay for lunches has upset some parents who consider it a violation of privacy. Students palms were scanned before the parents were given the choice to opt-out. Parents in other areas of the country also have privacy and cost concerns.