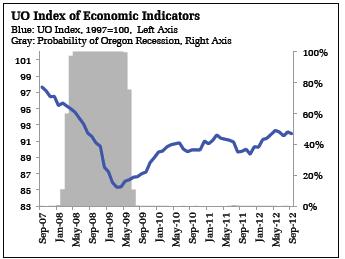 University of Oregon Regional Economic Indexes
By Tim Duy
Oregon Economic Forum
University of  Oregon
Oregon economic indicators were softer in September.  Highlights of the report include:
Oregon economic indicators were softer in August, although most of the decline is attributed to softer employment figures.  As mentioned previously, employment data has been volatile in recent months, with some of the volatility likely to be reduced in future data revisions.  Overall, Oregon is growing near to somewhat below its average since 1990.
it is best to focus on the moving-average measure, which declined somewhat in September to -0.66 (where "zero" for this measure indicates the average growth rate over the 1990-present period).  Construction and employment was the most notable drag on the measure, although this seems inconsistent with improving residential building figures.  The negative impact of construction employment is likely to be lessened in subsequent data revisions.
The University of Oregon Index of Economic Indicators™ fell 0.3 percent in September.  The UO Index was revised to include Oregon manufacturing weekly hours for nonsupervisory and production workers.  The inclusion of this component lessens the extent of the decline in the summer of 2011.
Residential building permits (smoothed with a five month-moving average) gained again, rising to just over 1,000 as construction activity continues to improve.  Nondefense, nonaircraft capital orders were virtually unchanged for the third month in a row; slow economies overseas appear to be weighing on the sector.
The UO Index suggests continued economic growth in Oregon.  The baseline scenario remains steady but relatively slow growth for the national economy, with Oregon following a similar trajectory.  The possibility of either a sharp fiscal contraction in the early part of 2013 or deterioration in the global economy (or both) remains a risk to the outlook.