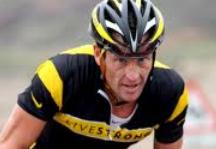 Business News Note:
NIKE and a collection of other supporters have dropped Lance Armstrong from being a sponsor after the U.S. Anti-Doping Agency issued a report on several allegations of doping against Armstrong which included several former workers. Armstrong has been part of NIKE since 1996. Radio Shack, Anheuser-Busch InBev and the makers of Trek BicycleCorp. FRS energy drinks, Honey Stinger energy foods & the Giro bike helmet makers also have either dropped Armstrong as a sponsor or have distanced themselves. Last week, Mr. Armstrong's former team director stepped down from a Radioshack sponsored cycling team.
Still outstanding is Oakley Inc. which has been with Armstrong for two decades.
NIKE said they plan to rename their "Lance Armstrong Fitness Center" to something new.
Here is the official NIKE press release,
"Due to the seemingly insurmountable evidence that Lance Armstrong participated in doping and misled Nike for more than a decade, it is with great sadness that we have terminated our contract with him. Nike does not condone the use of illegal performance enhancing drugs in any manner. Nike plans to continue support of the Livestrong initiatives created to unite, inspire and empower people affected by cancer. "